Laminam for Rossella Colombari
March 2023
Blog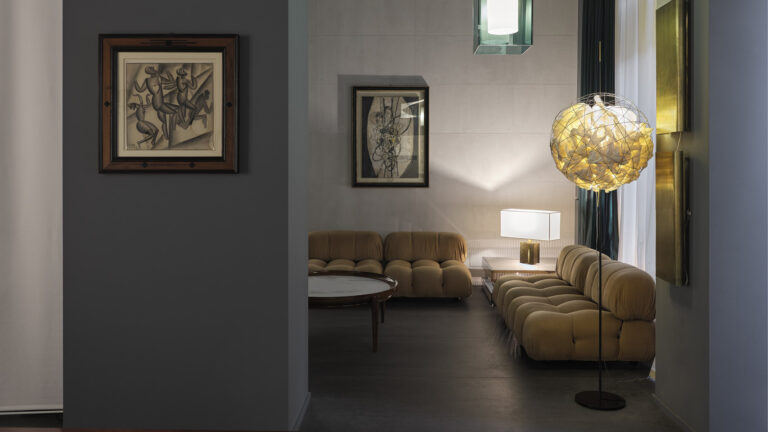 For over forty years, Rossella Colombari has been promoting Italian design throughout the world. Her namesake gallery – which is considered to be one of the most prestigious galleries in Milan – has hosted famous exhibitions and showcased masterpieces by some of the greatest names in Italian architecture and design.
Ironic and passionate, Rossella looks at the world with the curiosity of a child and the enthusiasm of those who know how to appreciate beauty. She adores Mexico and creativity, the same creativity she used aged five to build cardboard models of skyscrapers. We met with her in Milan a few weeks before the beginning of the Salone del Mobile to get to know her volcanic universe, her story. From the importance of teamwork to the exaggerated frenzy of today's world; from Milan to New York, via Mendini, Sottsass and eco-sustainable trends: Rossella travels through historical eras, hot topics and faraway cities with optimism and awareness.
Always on the look-out for that missing piece.
Many refer to her as a pioneer in the design market from the 80s to the present day. The fuse that ignited the spark is intuitively attributable to a family passion, considering that she comes from a dynasty of antique dealers from Turin who have always been committed to promoting the importance of Italian heritage.
But now, after forty years of success, what keeps the flame of enthusiasm alight? What continues to fuel it?
Curiosity is what led me to begin and which today still channels my energy into an extremely versatile job, which begins with the object, touching on architecture, publishing, graphics… all facets of my world, in keeping with my aesthetics. Of course, I can say that I inherited the characteristics of my father, a great collector and art lover. It is with him that I took my first tentative steps, and then started my entire architectural perspective.
I was just five years old and I was already imagining and creating my perfect world: I would build incredible skyscrapers in my bedroom, which I made from cardboard and decorated using family blankets and socks. By the time I was ten, my parents had to hide all the keys to their wardrobes so they wouldn't end up with holey socks or cut jackets!
When you open your eyes in the morning… what does a design gallery owner's typical day look like? If there is a typical day!
How does my day begin? It begins with an idea, which usually comes to me when I'm alone, perhaps sitting on my bed, stock still, while my brain produces pictures and creations. I arrive at the Gallery, where I find my team, a team of extraordinary people who now know how to interpret my every instruction and help me shape the initial concept. We become a melting pot of ideas. What's fantastic is that we manage to make them come true together.
"I think that's the secret: to wake up in the morning with the desire to find out what surprises the day has in store, what unforeseen events we will be facing… that's the missing piece."
Let me give you an example: a few months ago, a historic client showed up at the Gallery with a collection of architectural jewels she had purchased from me twenty years earlier. They were all rare and sometimes even unique pieces, by the major international architects of the 80s. These include the Japanese architect Arata Isozaki, who passed away late last year. There came…. the idea: why not celebrate this great artist and with him the 80s of Mendini, Sottsass, Bob Venturi and Hans Hollein. That's how the exhibition for the Salone del Mobile 2023 was coined: a great tribute to the Eighties, through the jewels that I have updated in a setting that will transform the Gallery, following a plot in which extras come on and off the stage creating a precise journey.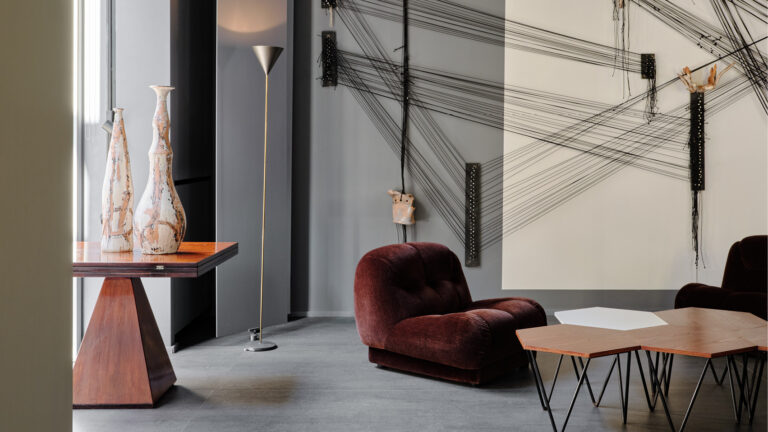 In 1972, Italian design was officially consecrated thanks to the exhibition entitled "Italy: the new domestic landscape" hosted at the New York MoMA. Do you think that Italian design today is still a genuine factor of attractiveness at the international level? 
Let's start from the post-war period, when Italy had to rebuild itself and it achieved this through its creativity.
Gio Ponti, Carlo Mollino and Franco Albini found a fertile ground to exercise their skills in rebuilding.  They had unprecedented creative freedom to draw on. A great industry was born, construction of second homes developed in keeping with the bourgeois class. The States became a model of inspiration. This was demonstrated by the extraordinary exhibition entitled "Italy: the new domestic landscape" in New York City by Emilio Ambasz, who consecrated Italian design as being acknowledged at the international level. Italy after WWII was a driving force in the international design scene. One of the factors was the research and quality of materials. Architects at the time created new textured trends and industry simply followed. Joe Colombo was a prime example of this. Then in the 80s, architects Alessandro Mendini and Ettore Sottsass broke away from the idea of rational architecture with post-modernism. Unfortunately, the poor interpretation of this movement led design to what is now referred to as "Art Design". A confusing, unidentified container.
Milan is your home, you know its details and its dynamics. The chief town of Lombardy is internationally recognised as being the capital of design and not surprisingly, Milan is where the Salone del Mobile was first launched in 1961. In these times of diminishing in-person meeting places and virtual networks, how did and how will Milan confirm its position as a catalyst for creative ferment?
 In the eyes of the world, Milan, which in fact has 1,800,000 inhabitants, is a great city. With the expected population increase in the coming years, it will finally become a metropolis, city-state. This means that for a company, working in Milan today constitutes a great opportunity. I am absolutely convinced that being part of Europe's largest construction site means playing an important role in its development. 
"Quality is always worth it and over the course of my career, I have experienced it several times. A beautiful object that stands the test of time and does not age will always be attractive to the customer."
All that matters is to be firm and not to let ourselves be sucked into this frantic whirlwind that misleads and confuses us. If I had to give some advice to a company, then I would say: "slow down, communicate your quality and safety." For years, the market has been high on this false myth of innovation: you have to change, innovate, find the new trend, at all costs. What's new is already old. But that's not the case! Let's go back to thinking about products together with great architects, with people who know what they're talking about. We are faced with a major and very interesting challenge, one I feel optimistic about for the future.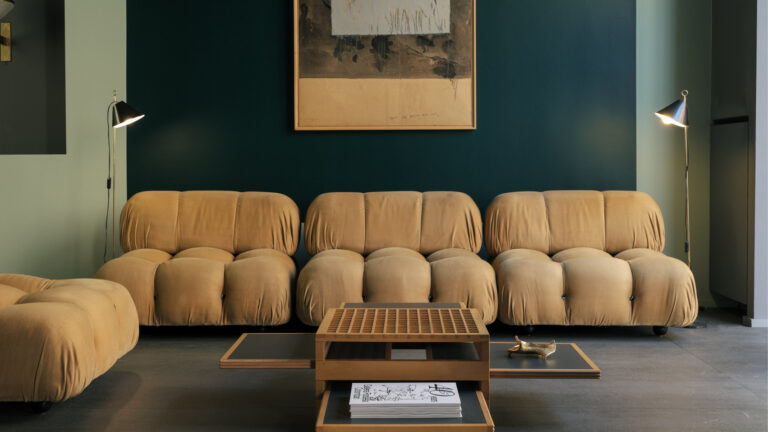 You chose Laminam on the flooring of your gallery. What guided your choice? What aesthetic and functional aspects did you consider?
We've had this flooring in the Gallery for over a decade. When we had it laid, the large size was a novelty. I liked the idea of having a uniform, indestructible surface. The most varied items of furniture have stood on this flooring, including lots of marble tables, thousands of settings, but it has always remained steady in its original beauty, I have never had to replace it. These days, they'd like to make you think – especially in the world of fashion and interior design – that our needs are always different, making us feel inadequate. And yet, the consumer's questions are always the same: "Will the flooring stand the test of time? Will it get scratched?". Look at these slabs, they've been here for a decade and they have matched everything! And then this grey hue… it is part of the palette of my favourite colours, those I refer to as "timeless" hues.
In short, the choice of Laminam was determined by the quality, refinement and solidity of this product.
In "40 years of Galleria Rossella Colombari", the book that celebrates this important milestone and that tells the story of your creative universe, you write: "I have always been attracted to the act of transformation. I tried to give rise, as Jung says, to a world in which I would not feel like a stranger." How do you feel in today's world?
I often hear that I have a child's gaze, perhaps because I prefer the imaginary world to the real world. When I walk through the streets in the morning, I look at the buildings around me and transform them with my imagination: I think of how I would modify the façade, how I would change its geometries…
Unlike those who always criticise everything, I am of the opinion that innovation must be understood, elaborated and improved on. To do that, you have to have accomplices; I always say: "a child never plays alone," they need other children to play the same game. This is why I love to surround myself with people of different natures, with different backgrounds, but who share the essence with me, namely curiosity, passion for aesthetics and the depth of the message. In this, however, I must admit that my husband surpasses me.
"For forty years my husband has been investigating gender identity, to explore the human being. His research has resulted in a collection, which will be included in an architectural work built by Lazzarini Pickering Architetti Firm, combined with our collaboration.  We will leave it to the city of Milan as a reminder of our passage."
Thus, her childlike gaze once again lights up.