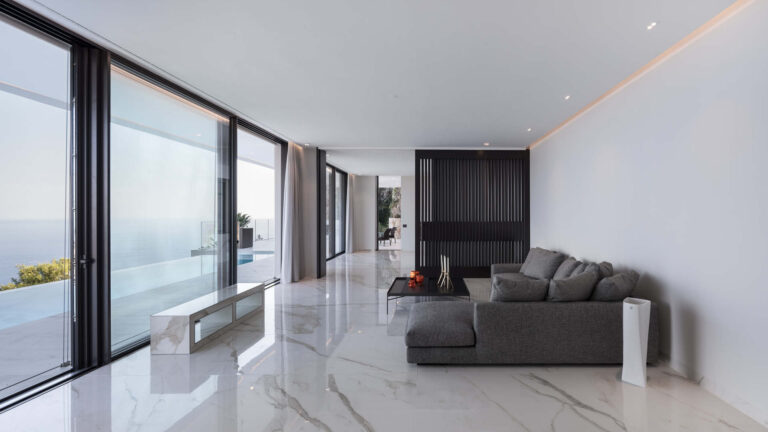 Laminam ceramic surfaces are an innovative and elegant solution to be applied as flooring, offering the perfect mix of versatility, strength and durability. Their sophisticated composition, which is made up of prized clays, metal oxides and other natural raw materials, makes them ideal for use as flooring in both indoor and outdoor settings.
Laminam for your flooring
One of the main characteristics which makes Laminam surfaces perfect for application as flooring is their dense and compact structure. This particular make-up lends it exceptional resistance to wear, scratches and abrasion, ensuring the flooring retains its original appearance over time, including in settings with heavy pedestrian footfall or subject to mechanical stresses.
The extensive range of finishes and colours available means the most suitable Laminam flooring can be picked to suit any design styles or architectural concepts. From the natural appearance of stone, marble or wood, to the most modern and contemporary finishes, such as cement or metal, Laminam ceramic surfaces make it possible to create extremely versatile and aesthetically striking flooring solutions.
Another significant advantage of Laminam ceramic surfaces is that they are so easy to clean and care for. Unlike wooden flooring or fitted carpet, which traps dust and dirt, Laminam flooring solutions are non porous and stain resistant. Simply wipe with water and neutral detergent to keep the flooring in tip-top condition. Using large slabs for flooring means fewer joints and therefore greater aesthetic consistency and visual continuity; in addition, their resistance to chemicals means a wide variety of cleaning products can be used without compromising the surface.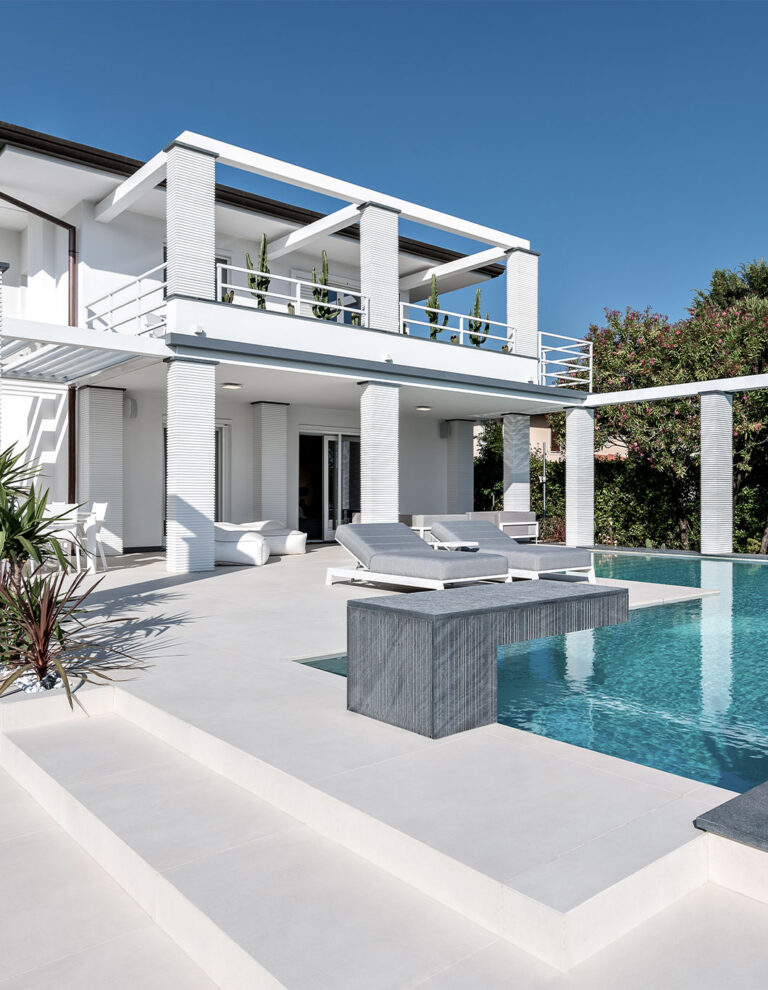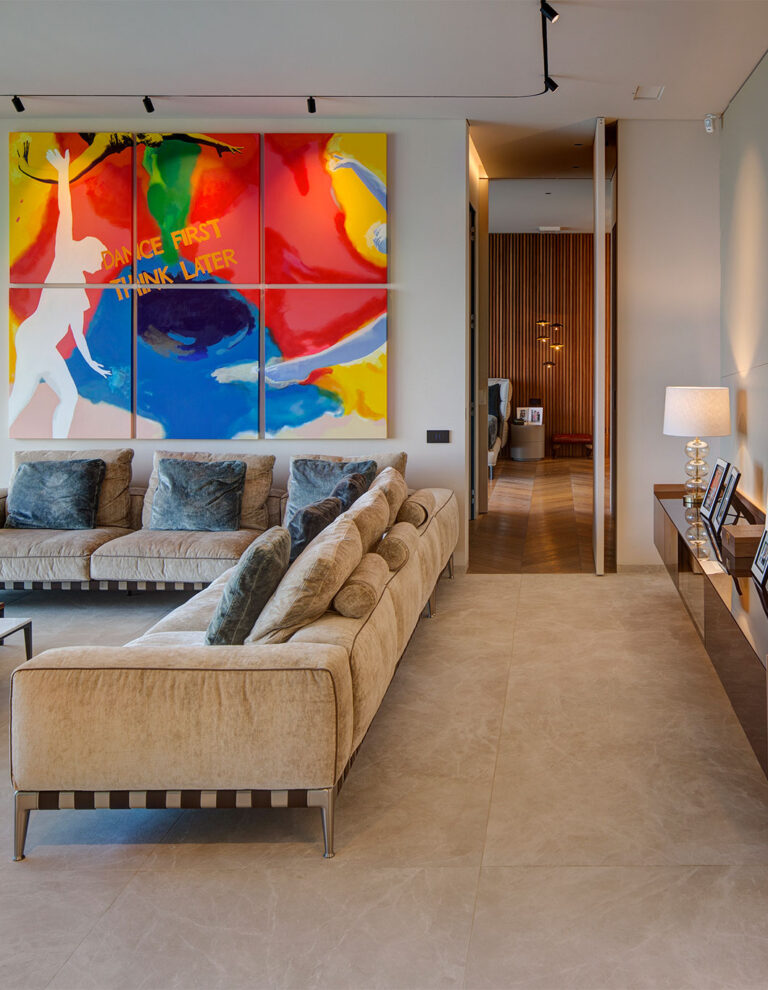 Versatile and practical
Applying ceramic as flooring is extremely practical; Laminam slabs can in fact also be applied directly to existing flooring. Their slim thickness allows the overall dimensions to be minimised, while simplifying the installation process, reducing construction site down time. What's more, the light weight of Laminam surfaces makes them easier to manage and carry compared to other heavier and bulkier flooring solutions. Laminam ceramic slabs are also the perfect ally in the case of systems with underfloor heating, they are immune to thermal shocks and uniformly conduct heat.
Laminam ceramic surfaces are extremely resistant to moisture and atmospheric agents in general, making ceramic suitable for use as flooring and cladding in settings with high degrees of humidity, such as bathrooms, swimming pool flooring and cladding, outdoor staircases and wellness spas, as well as for outdoor flooring. Their non-porous structure prevents water from being absorbed and also prevents the formation of mould, mildew or fungi, helping keep the setting clean, healthy and hygienic.
The large number of collections available, which faithfully replicate natural stones such as marble or wood and other materials, make Laminam a versatile solution for any setting: as an indoor or outdoor pool cladding, applied as flooring in the kitchen or picked as a "total look" style combining identical flooring and cladding, for instance for the bathroom or sitting room.
An elegant and durable design solution
In conclusion, applying Laminam ceramic surfaces as flooring is a winning choice for those in search of an elegant and durable design solution. Their strength, easy cleaning, versatility and safety make them suitable for cladding any space, both indoors and out. In addition, sustainability and minimal maintenance make Laminam an eco-friendly and budget-friendly choice in the long run.
The advantages of using Laminam ceramic slabs for flooring:
Striking and impactful in their aesthetics, they replicate the beauty of natural stones
They improve thermal insulation and deliver energy savings
They are fireproof: in the event of fire, they do not promote the spread of flames.
They guarantee ease of cleaning and high standards of hygiene
They are strong and durable, are immune to corrosion, the surface will always be uniform and the colours will always remain the same over time.
They are environmentally sustainable and recyclable. Thanks to the faithful reproduction of natural stones as well as wood or marble, they do not spoil the landscape. In addition, they are made of 100% recycled and recyclable materials.
More Information
Get in touch with us for more information on Laminam surfaces or for technical support.