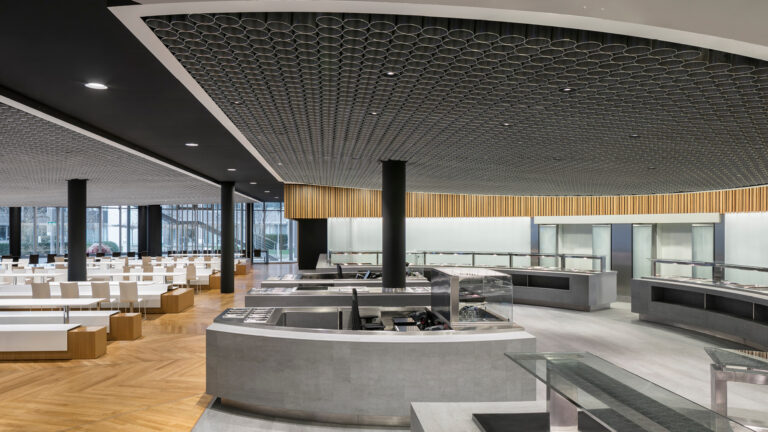 Focus on the wellbeing of its human resources
Telekom, germany's number one telecommunications company, the biggest in europe for this sector, has picked laminam products for its headquarters in bonn.
Telekom's focus on the wellbeing of its human resources is expressed in the form of benefits reserved for employees and of safeguard of the quality of life in the workplace.
Location

Bonn

Year

2018

Architect

KEGGENHOFF | PARTNER

Applications

Furnishing elements, Wall cladding

Project Type

Office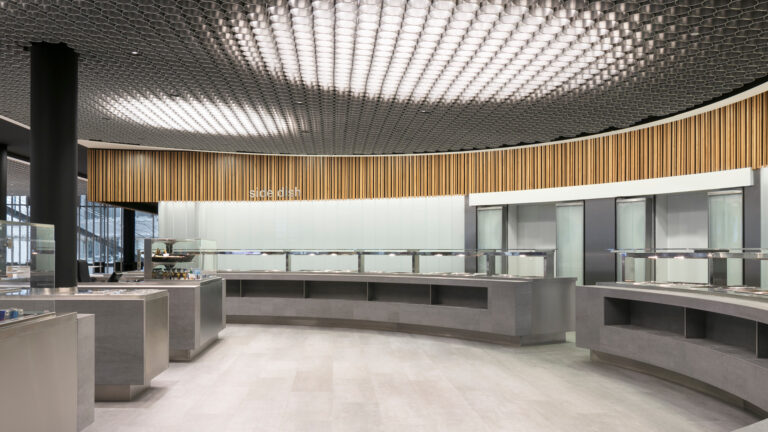 Creating a harmonious dialogue between contrasting surfaces and textures
A good example of this is the cafeteria at the company's headquarters in Bonn, the design of which was entrusted to German experts KEGGENHOFF | PARTNER who left their recognisable mark on this interiors project. The design of the interiors and of the architecture was conceived by the architects as a single, thrilling and functional whole, giving rise to compositions of colours and materials, creating a harmonious dialogue between contrasting surfaces and textures, in a continuous game of lights and shadows. For KEGGENHOFF | PARTNER architectural design is like a bespoke suit, designed and made to measure, thanks to the creativity and sensitivity of its architects.
The dining room of the Telekom headquarters is in fact devised like a harmonious space where an array of different materials and hues co-exist and blend together. The wood of the parquet flooring embraces a beating heart featuring gentle shades of Laminam ceramic slabs. Both materials are totally natural, and they distinguish chromatically the area where meals are eaten from the central area where they are instead prepared. The material used continuously, from the flooring to the semi-circular shaped desk, and from the work surface to the vertical claddings of the cabinet, is the porcelain stoneware of Laminam ceramic slabs, chosen in the series which by no accident happens to be I Naturali, in the Pietra di Savoia Grigia Bocciardata finish. Natural in both the composition of the material as well as the surface appearance, which resembles genuine stone in every possible way.
Laminam ceramic is the ideal material for use in the kitchen, and particularly in public venues because it is naturally hygienic, and therefore entirely suitable for contact with foodstuffs, and extremely resistant to impact, scratches and external stresses. In other words, it is a durable material. Also, its easy cleaning (stains can be removed with water and neutral detergent) is another added bonus which ranks Laminam slabs as the component for use in furnishings par excellence.