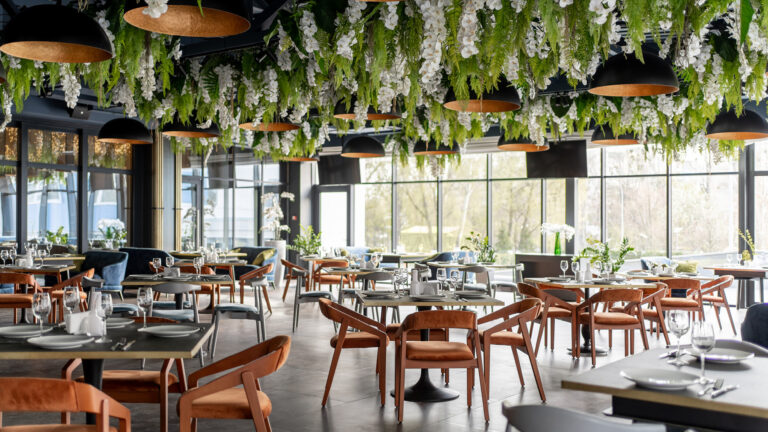 A convivial and informal atmosphere
Shef Terrace is the modern terrace of Shef Restaurant designed by Alta Idea Design Studio and located inside the Flavor Park Hotel in Kiev. The terrace was conceived as an architectural extension of the main hall, featuring a convivial and informal atmosphere. A combination of comfort and excellent service are the pluses of Flavor Park Hotel, which regularly hosts events, including sporting and international ones. The Shef Terrace space can be easily transformed, as requested by the customer to the design studio, depending on the nature and extent of the event.
Location

Kiev

Year

2020

Designer

Yulia Baydyk, Vitalina Avrinskaya

Design Studio

Alta Idea Design Studio

Applications

Flooring, Furnishing elements, Kitchen Worktops, Wall cladding

Project Type

Restaurant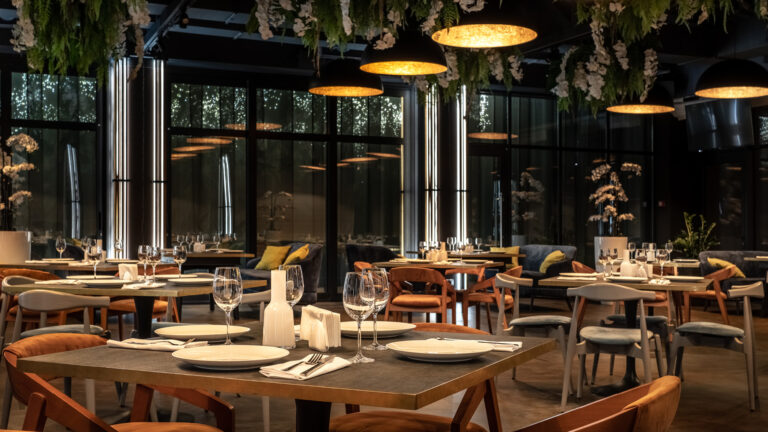 The sense of merging with Nature
The space is fluid and delicately decorated, so that it can be adapted for ceremonies as well as official receptions or business meetings.
The entire terrace is made of transparent glass to provide a view of the city's cathedral and the surrounding lakes. The sense of merging with Nature is echoed in the interior design elements specially chosen to decorate the premises, with white hanging orchids adding a touch of elegance to the ceilings and large vases arranged around the perimeter of the walls. Contrast is another distinctive element in the choice of furnishings: the floor in Laminam Ossido Bruno is reminiscent of the oxidation effect of atmospheric agents on metal, with an industrial rust look perfectly matched to the elegant brass lamps. The Filo collection  is chosen in the Bronzo shade and always in tone with the floor; it denotes the column cladding with a shimmering effect. The room is enlivened when the lights are on; at dusk, on the other hand, the metal effect of the collection evokes a sense of cosiness and gathering that embraces the entire Shef Terrace.
The tables in Laminam Pietra di Savoia Antracite, which is resistant, durable and suitable for contact with foodstuffs, pay homage to Nature evoked in many of the interior design elements, and the Bocciardato finish contributes to a tactile and visual experience reminiscent of hand-worked stone. The sofas are custom-made and the natural wood elements of the chairs are painted in the same shade as the fabric to create deep and soft colour accents.