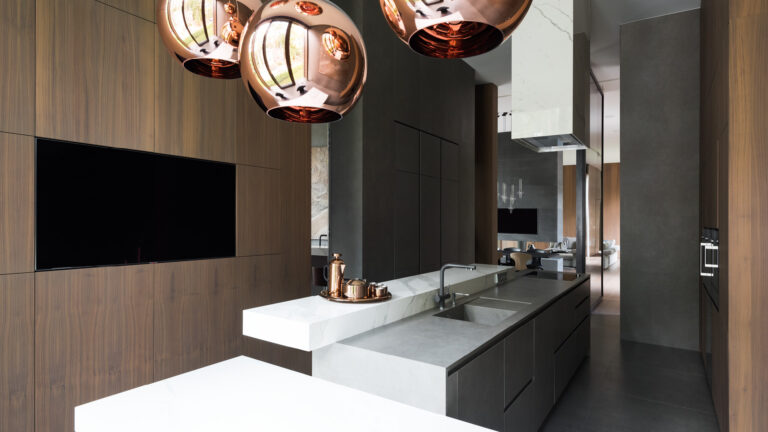 "Timeless" is the philosophy that guides the design style
"Timeless" is the philosophy that guides the design style of architect Aleksandra Fedorova, applied to exterior and interior architecture. Timeless environments designed with the composition of volumes and essential spaces. One perfect example is the Copper Shell House, a private house constructed in the Serebryaniy Bor region close to Moscow, a highly populated area immersed in the vegetation of a natural park.
The countryside in which the house is set has influenced both the choice of structure and the materials used. Two volumes overlap with the main one that serves as a base, the rectangular floor of which houses the living area and a well-being space occupied largely by an indoor pool. Climbing the stairs, we reach the first floor with its living room and large kitchen, while the bedrooms are found on the second floor. On the outside, the materials used for the cladding combine to create overlapping and contrasting effects. Large sized oxidised metal-effect Laminam ceramic slabs from the Oxide collection, with the Moro finish, are used as the base.
Location

Mosca

Year

2019

Architect

Fedorova Architects

Applications

External Facades, Furnishing elements, Wall cladding

Project Type

Private House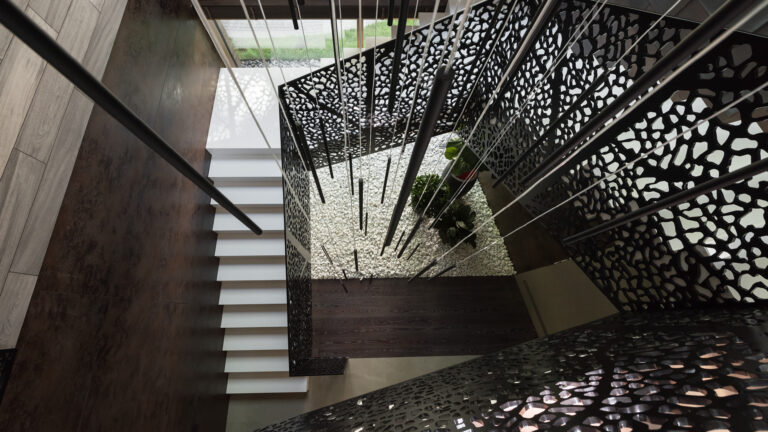 Continuity between the outside and inside
On the inside too, the architect has injected movement into the spaces by perfectly interweaving materials and colours and ensuring continuity between the outside and inside. Oxide ceramic slabs are also used for the internal cladding of the stairs and in the swimming pool room while, in the living room and kitchen, we find ceramic slabs from the I Naturali, Pietra di Savoia Grigia Bocciardata collection used for the flooring and vertical cladding and Bianco Statuario Venato on the kitchen countertop.The decision to use ceramic slabs has to do with respect for the environment and the desire for an extremely durable product. On the one hand, the environmental compatibility of Laminam ceramic and the fact it is made from natural raw materials means added value for the surrounding landscape while, on the other hand, its excellent resistance to external stresses, UV rays and temperature fluctuations make it the ideal material for use in construction.