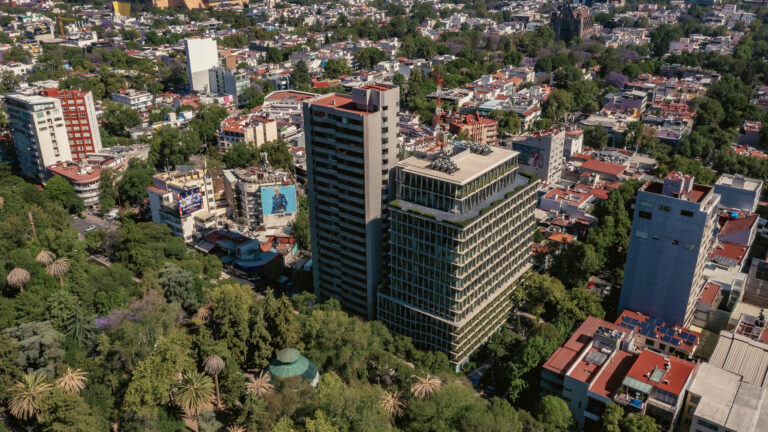 A "boutique-building" situated in the heart of Polanco
Exclusive residential solutions that focus on being Green: the multi award-winning Studio Donis takes state-of-the-art architecture to Mexico City and picks I Naturali by Laminam for the iconic honeycomb façade
A "boutique-building" situated in the heart of Polanco, an exclusive residential area in Mexico City, Castelar 75 is considered to be one of the Country's most cutting-edge architectural creations. Designed and created by the famous architect Fernando Donis (the founder of the namesake studio with offices in Mexico and in the Netherlands which specialises in restyling urban, architectural and industrial design with visionary projects), the building is intended for a new type of sustainable office and commercial building, boasting large expanses of space inside, ideal for workspaces, reception and parking areas. I Naturali by Laminan is used to create an original brise-soleil façade, abstraction of the fractal nature of the important park in front.
Location

Mexico City

Year

2022

Architect

Fernando Donis

Design Studio

DONIS

Applications

External Facades

Project Type

Residential complex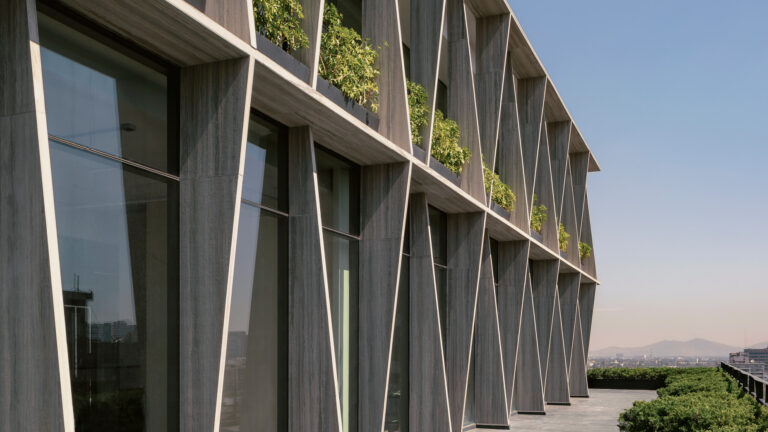 A monumental work both in terms of size as well as its environmental policy
Castelar 75 stretches vertically over fifteen floors above ground and two underground for a total of 18,314 m2 and a surface area of 1207 m2: it is a monumental work both in terms of size as well as its environmental policy, as testified by the LEED GOLD certification, which assesses the sustainability of a building throughout its entire life cycle, from concept design, to construction, through to running it, also involving the allocation of credits to the construction materials used to achieve these ambitious objectives.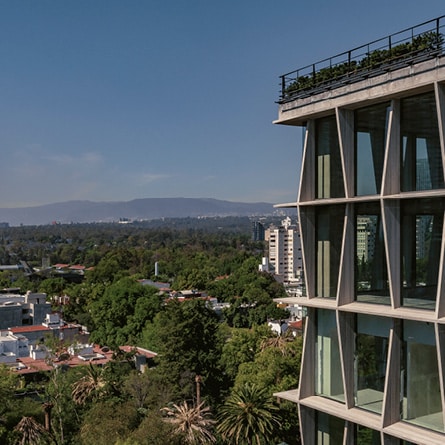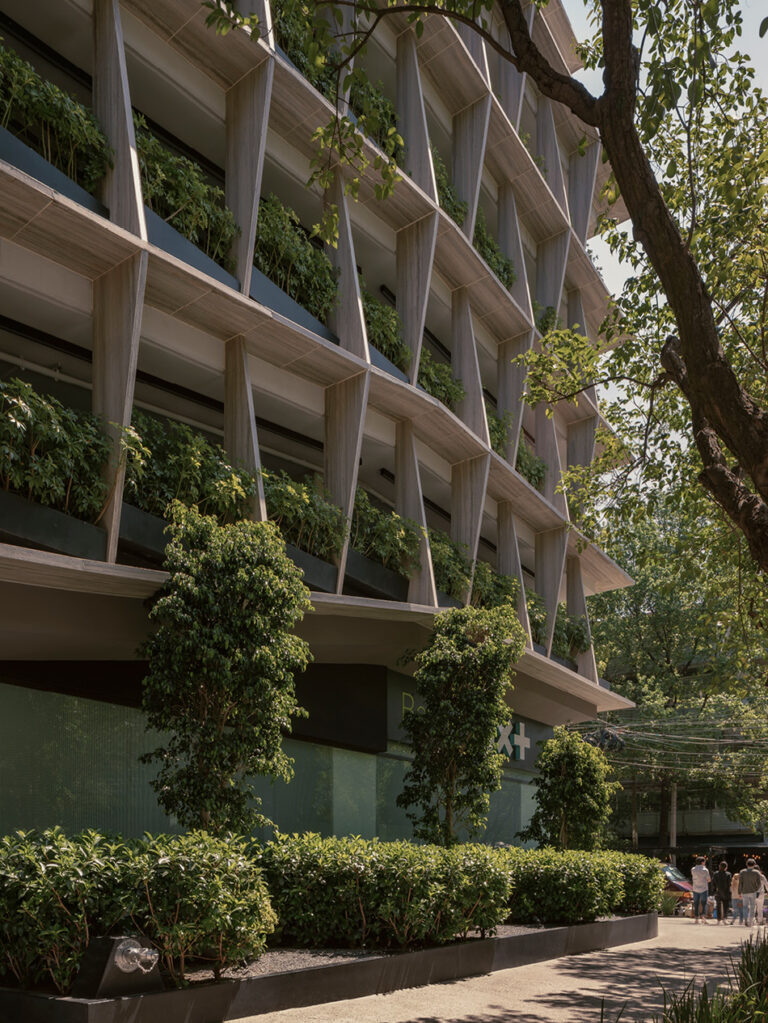 The iconic smart façade includes ventilated terraces on each storey, which combine the concept of modularity with a biomimetic vision of  its framework, offering a spectacular view of Lincoln Park.
The facilities also comprise a self-service car park, a ventilation system, a latest-generation ERP for the building's maintenance and an innovative climate control system, which are all added bonuses that make Castelar 75 a truly prestigious construction solution for those in pursuit of exclusivity, quality and domestic well-being for themselves or for their co-workers, in addition to fully conforming to the standards of green architecture.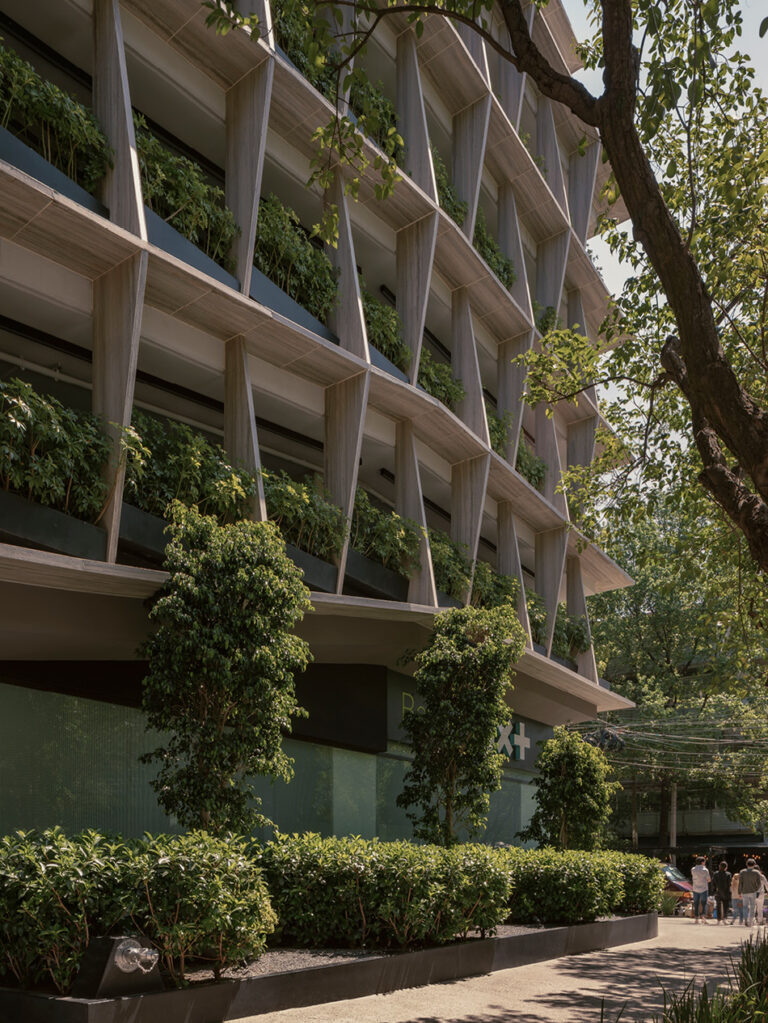 The exterior of the architecture is particularly eye-catching, the starting point of Castelar 75's sustainable design
The exterior of the architecture is particularly eye-catching, the starting point of Castelar 75's sustainable design with its characteristic vertical honeycomb structure where each cell plays host to lush decorative plants. The 6+6 mm low-emission double glazing applied to all windows minimises heat dispersion. For the iconic exterior façade the design studio headed by the architect Donis opted for large Laminam slabs from the I Naturali collection in the 1000 x 3000 mm size, selected in the Travertino Grigio Venato colour in Bocciardato finish with Laminam 5 thickness. In this particular context, the choice proved to be particularly elegant and impactful, since the slab was used to clad the trapezoidal elements making up the fake honeycomb cells of the external façade giving it a smooth, falsely irregular rhythm that looks extremely dynamic, effect augmented by the sunlight changes throughout the days and seasons.
Laminam surfaces offer a host of advantages when used outdoors:
they bring to mind the beauty of natural stones and are refined and highly effective. They improve thermal insulation and, given their light weight, they do not affect load-bearing structures. They are strong and durable, do not suffer from corrosion, the surface is always uniform and the colours are always the same over time. Last but not least, they are eco-sustainable and recyclable. In the case of Castelar 75, the use of the I Naturali collection in Travertino Grigio Venato Bocciardato has contributed to the overall sustainability of the building ranked in LEED/BREEAM credits, since it was able to rely on a minimum pre-consumer recycled material use of 20%.
Credits
Fernando DONIS

César Béjar Studio