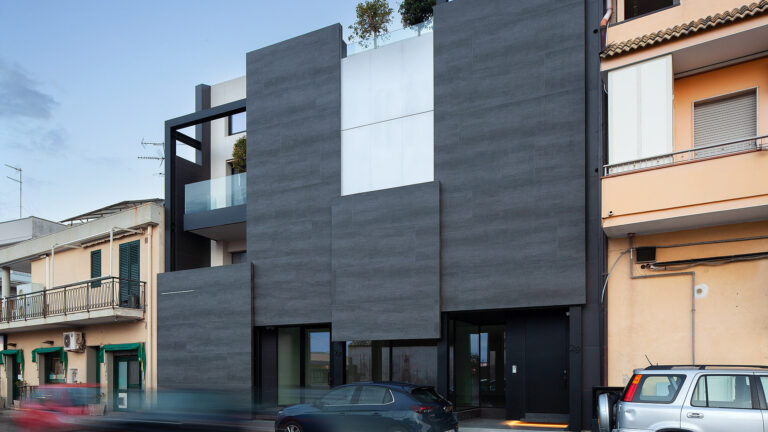 the architectural structure responds to a construction principle that is simultaneously 'dynamic' and 'adversative'.
Designed by PEK Studio, Casa N is a residential/commercial building erected in the municipality of Floridia, in the province of Syracuse.
The 'dynamism' is embodied in the 'panels' that make up the front of the building, equipped with a complex mechanism that lets the large surfaces slide vertically, revealing the functions behind: the entrance to the garage and access to the commercial area. On the other hand, the 'adversativeness' concerns the extremely enclosed street front, which shuns overlooking the street below, favoring architectural connections with the internal areas, where domestic life takes place: large openings and aerial links facilitate connections between the living and sleeping areas.
Location

Siracusa

Year

2022

Architect

Giuseppe Merendino

Design Studio

PEK Studio

Applications

External Facades, Flooring, Furnishing elements, Wall cladding

Project Type

Residential complex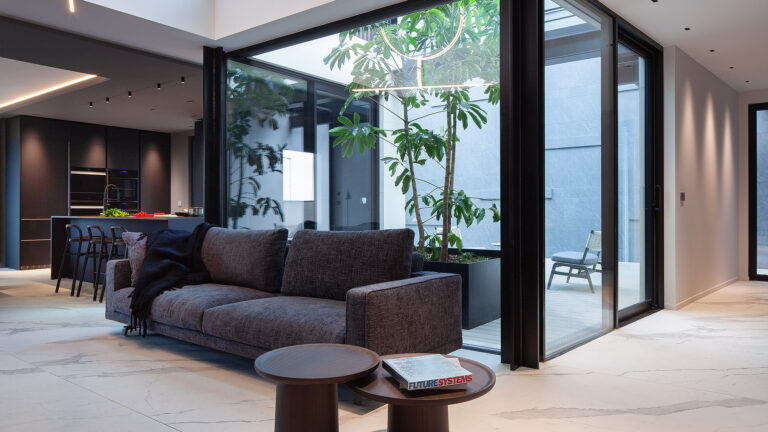 Laminam surfaces are used in this project with eight different products, with a view to a true Laminam Effect.
They introduce basic homogeneity despite stylistic variety, helping to mark the character of the building. The use of the large Laminam slabs in the exterior façade – by means of a dedicated installation system that has since been patented – concerns the I Naturali collection in the color Pietra di Savoia Antracite. A key feature of this collection is its versatility, which makes it suitable for any type of application, with endless possibilities for reinventing spaces and satisfying the most complex and articulated architectural requirements. It features a constant strong reference to classicism and the Italian tradition of beauty, elegance and magnificence. I Naturali are installed also in the balconies and the hallway on the first floor (Pietra di Cardoso Nero Natural); in the wall cladding of the inner courtyard (Pietra di Cardoso Nero Fiammato); in the interior flooring (the marble look of Statuario Altissimo) and in the bathroom cladding (stone inspiration with Ardesia Bianco a Spacco). All this proves the aesthetic flexibility of this collection, which is able to reinvent itself according to the finishes and uses, while retaining its basic peculiar features.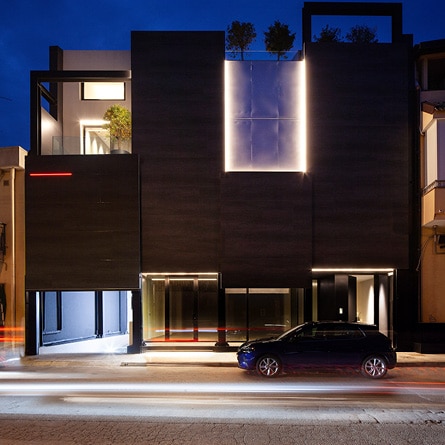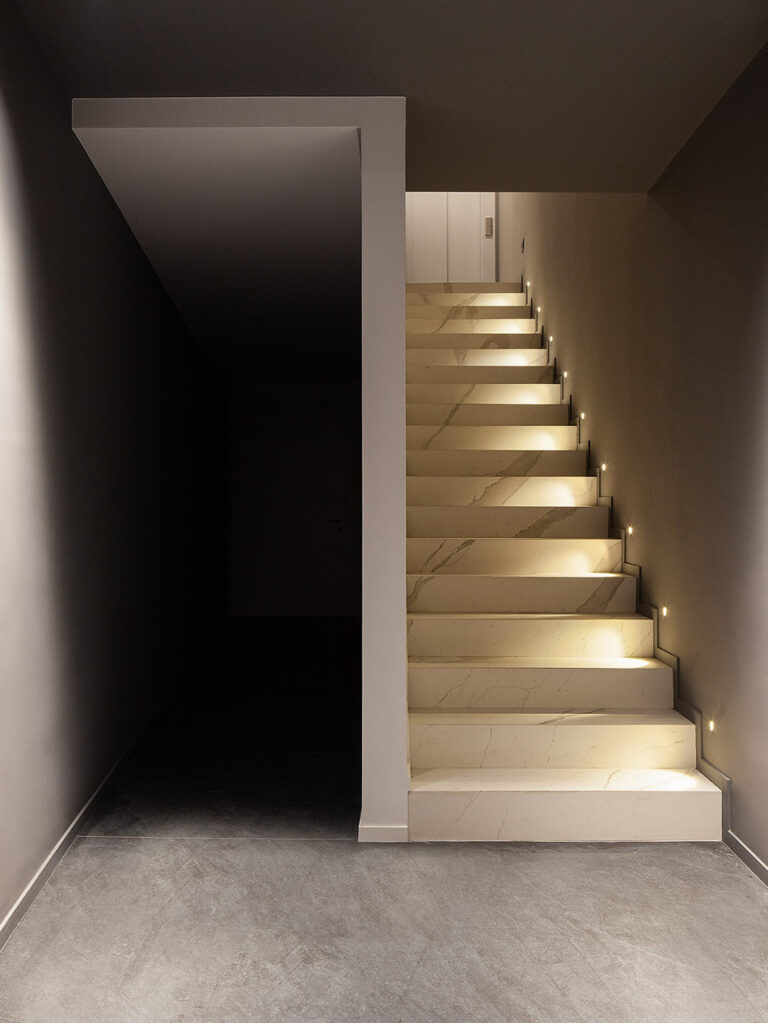 For exterior cladding, the large slabs are from the Laminam Collection series in the colors Nero and Neve. Collection is Laminam's longest-established collection and interprets the aesthetic and textural concept of solid, full-body color, perfect in creating continuity of space and volume, both outdoors and indoors. For bathroom wall cladding, in combination with the known Laminam – I Naturali – we find the preciousness of the large Laminam Silk slabs in the Liquorice color: visual and tactile suggestions with a rich color body without ever being excessive and opulent.
Credits
Salvatore Gozzo

Iteko Srl

PEK Studio

Giuseppe Merendino