Four decorating ideas to add elegance to your kitchen
January 2022
Blog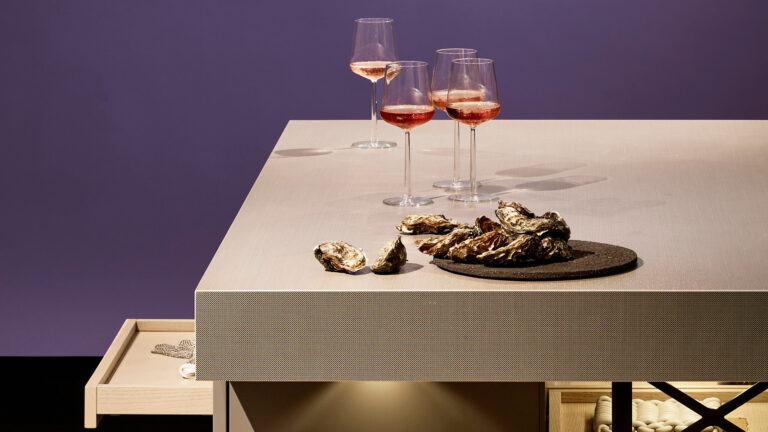 Finishes, colours, textures: here are some suggestions for bringing style to the most popular room in the house.
Fashion and architecture, architecture, and fashion: these two worlds have always gone hand in hand, like two old friends. They inspire each other, exchanging trends, communicating at a distance without ever losing sight of each other. In the spirit of this two-way flow of consciousness, we have adopted a quote from the creative genius of the iconic Coco Chanel, who said: "fashion changes, but style endures".
In other words, if you want to stand out through the years, being trendy isn't enough: it's personality that counts.
Right from the start, Laminam has produced ceramic surfaces aimed not only at responding to – or rather, anticipating – trends in modern architecture, but also at creating unique spaces with timeless style. A certain colour, an exceptional finish or a brand new texture: often the secret to flooring, cladding, kitchen countertops or furnishing destined to endure lies in the details that make them sophisticated one-offs.
Here we reveal some of those details – four, to be precise – for the kitchen: four decorating ideas that will add elegance to your kitchen.
Details in gold: when a detail makes the space special.
A little gem that becomes the heart of the home, this touch of class will surprise and captivate.
A symbol of wealth since ancient times, the colour gold has retained its precious nature, bestowing an inviting, luxurious, refined atmosphere on interiors. Flawlessly blending the charm of the past with contemporary elegance, gold takes centre stage in the home through colour combinations that lend the space a dazzling, exclusive allure. While at first glance it may seem a somewhat unusual idea, the use of gold in kitchen furnishing, for instance, can be useful for defining specific areas or emphasising particular elements. From the backsplash and kitchen unit doors, to taps, spotlights and drawer handles: everything takes on a lustrous hue which confers greater distinction on the space.
As is the case, for instance, with the FILO ceramic series, in the shade of Oro. Used for countertops or to cover kitchen unit doors, it exudes a subtle hint of elegance beyond compare. With exquisite refinement, FILO shines like the jewels that inspire it. The complex and refined texture of this enchanting ceramic surface charms and beguiles the eye, its appearance constantly changing with the effects of the light. The effect is that of an elegant weave embellishing the space.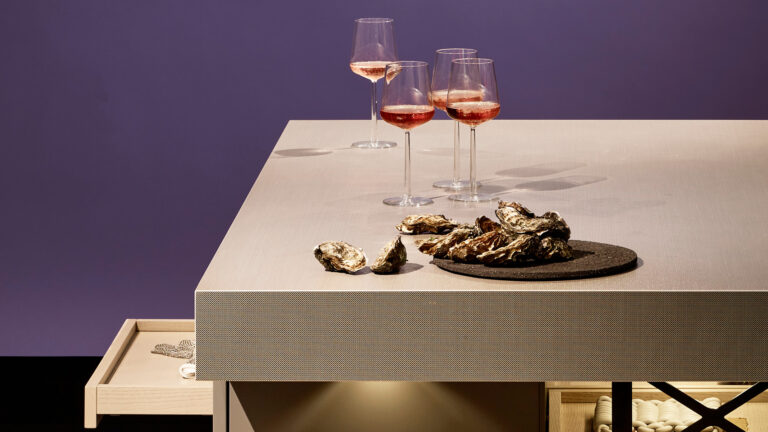 On the subject of details, an attractive kitchen space can also be achieved by combining a detail in gold with a shade that highlights its beauty without dulling it. Carefully choosing the elements which together will create the kitchen of your dreams is therefore an essential part of the design phase. Laminam's wide range of finishes, colours and textures offers countless possibilities for combinations with furnishing in other materials or colours, representing the perfect interior design ally, in all its hues.
For instance, the splendour of a gold tap can be combined with a warm colour such as Diamond Cream from the series I Naturali, a timeless new standard of opulent beauty.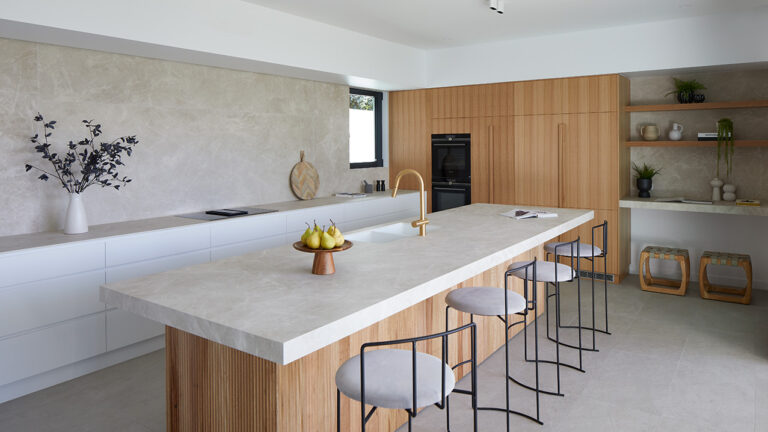 Marble-effect ceramic surfaces. Sure-fire luxury.
Elegant, functional and gleaming: the essential appeal of marble never goes out of style. These days, ceramic surfaces that faithfully reproduce the details of natural stone are increasingly being used for furnishing luxury kitchens.
With unmistakable style and refinement, they shine light in every corner of the space, in any colour.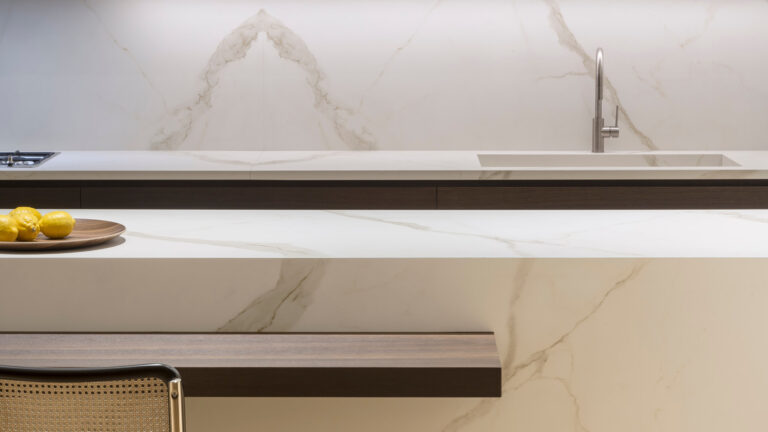 Here again, its juxtaposition with other materials can play a key role, enhancing the value of the space. If, for example, the aim is to heighten the space's visual impact, opt for a combination of a pale marble-effect kitchen countertop with the textural power of stone-effect ceramic surfaces. From I Naturali to In-side: let Laminam's colour palette fuel your imagination.
If, however, you prefer more pared-back elegance effortlessly revealed in different textures, then experiment with colour matching, and set the look of marble, inevitably more striking, against wood-effect ceramic slabs, such as those from our Legno Venezia series; from Corda and Noce to Sabbia, they bring warmth to the kitchen space, lending it a cosy feel.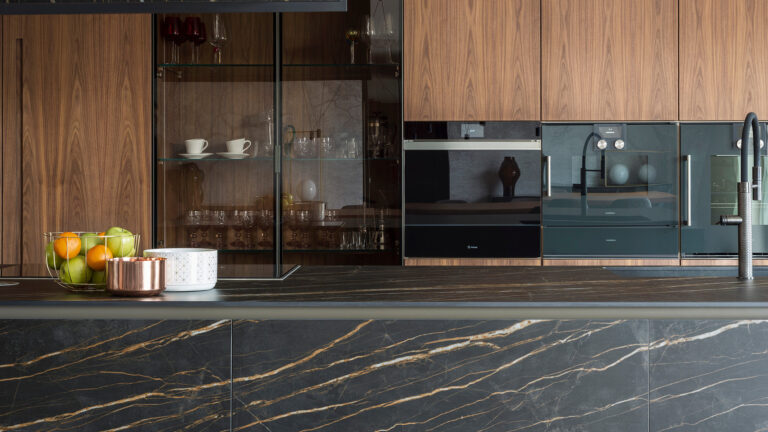 The modern elegance of metallic finishes
Metallic finishes are highly contemporary: bronze, copper and gold are now a major feature of some of the most modern interior design projects. If your aim is to keep up with the times without sacrificing elegance, then look no further than the Seta line which, just like the precious fabric from which it takes its name, takes on different hues depending on the light it reflects, resulting in incredibly striking effects. The depth of Seta's colour is rich but not ostentatious, refined but never kitsch.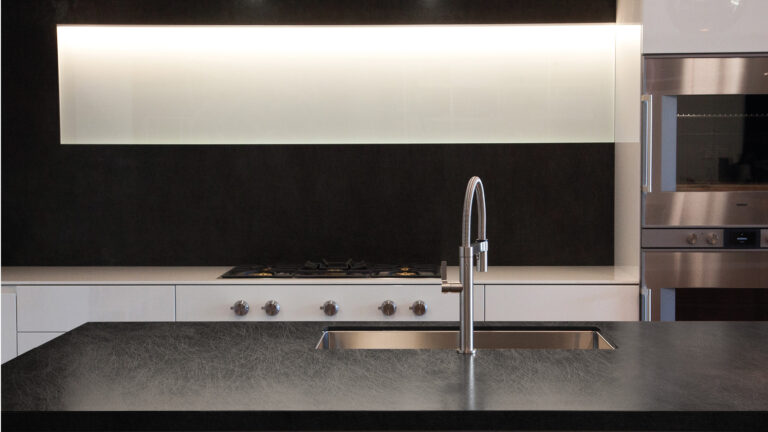 Decorative furnishing: how important is it?
So far, we have looked at combinations of texture and colour on vertical and horizontal surfaces for the kitchen, or on items strictly relating to it. But how to match more general items of furniture, such as stools, chairs, tables or accessories, in order to add elegance to the kitchen? Our advice is always to never overload it with too much opulence, to avoid crossing the line of good taste. If you have chosen to furnish your kitchen countertop or island with luxury finishes that elegantly cover a good proportion of the space, opt for discreet accompanying elements such as a table in muted colours, stools in faux leather for the island, glass vases or fine textiles.
Want your kitchen decorated in total white? Click here to discover all the secrets to doing it your way!