EARTH DAY, Sustainability & Co
April 2022
Corporate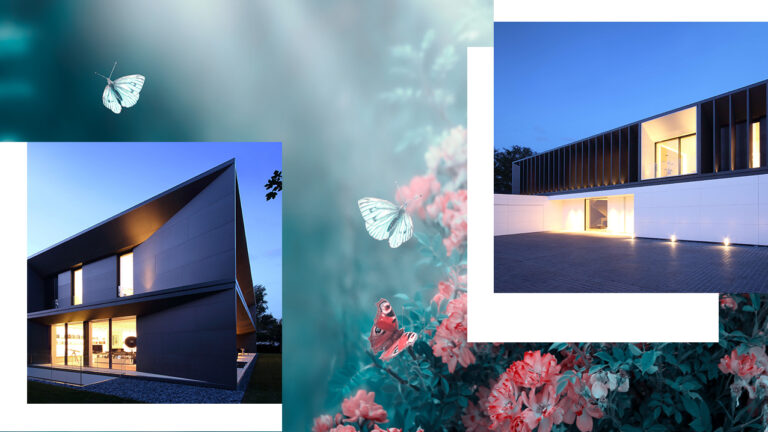 Sustainability is movement in architecture, too.
Some things in life appear as desirable as they are mutually incompatible: a comfortable dress cannot be sexy as well, or a tasty food cannot be healthy at the same time. Curiously enough, today, in the common understanding, sustainability is one of these concepts. How many of us, when hearing the word "ecology", immediately think of endless meadows with dew still dripping on fresh blades of grass, almost as if sustainable behaviour is only possible in a context of unspoilt nature?
And yet – surprise! – in 2022 true sustainability is technological, smart and loves science.
What is the true meaning of sustainable architecture?
The word itself speaks: sustain. In other words, to prevent something from collapsing: in this case our beloved planet Earth (and loving it is our duty: it is the only one we have!). With effective synthesis, architect and designer Enzo Calabrese expresses this concept in architecture: "Human beings consume the Earth's capital faster than nature's ability to regenerate. A sustainable house does not deplete the biocapacity of the planet, but harmonises with it, which is then able to "sustain" it." Sustainable architecture succeeds in balancing the scales: on the one hand, the needs of the people who will have to live in that building; on the other hand, the right of the environment not to be polluted, ruined or despoiled.
It used to be thought that these two needs were mutually incompatible, hence the call to reduce consumption as much as possible, whatever it may be. It goes without saying: this is difficult, because living means consuming resources: water, food, soil, materials…
Today we understood that human needs and natural needs have a way of co-existing, and even of being mutually helpful. The key word is now: responsibility. And the main tool is technological innovation.
Sustainability as a prerequisite for growth
At Laminam, sustainable innovation is one of the development guidelines aimed at excellence. In 2021, the company adopted an integrated Quality-Environment-Safety policy, obtained ISO 14001 Environmental Certification for its Italian plants and extended EPD Certification to all its products, finalised the Corporate Carbon Footprint study and published its second Sustainability Report. Contributing to the creation of "green" buildings is just the tip of the iceberg of a much more radical investment that affects all aspects of the company.
Take, for example, two projects such as Villa Geneva, in Switzerland, and Vanquish, in Australia. Both conceive sustainability as a cooperation between the design of the building and the conscious choice of materials, to achieve the least waste of resources and the greatest wellbeing for its residents.
Villa Geneva is a private residence located in a quiet leafy neighbourhood of Geneva. The design of the façade consists of a composition of frames designed to shield the sun's rays during the hottest season; the temperature is controlled naturally for more comfort, eliminating the need for air conditioning systems, with less waste. Cutting-edge technology is also used in Vanquish, Brisbane's first "passive house". "Passive" means healthy, quiet and energy efficient: 23°C of constant temperature all year round, through an intelligent combination of high-performance insulation and ventilation systems.
Both houses feature Laminam products inside: Collection Nero for the frames of Geneva Villa and I Naturali Diamond Cream for the four-metre island in the kitchen of Vanquish.
Everything you can imagine, nature has already created it
Sustainability is not a discovery of the last few years, but a journey full of insights, advances, revisions, rethinks and ….. leaps forward. The essential thing is to never stop and to merge historical and design awareness with attention to the latest innovations. Sustainable growth means being respectful of the territory; at Laminam, the extensive use of photovoltaics for the self-generation of green energy is combined with the electrification of the production process and logistics.
Ambience, Laminam's innovative treatment was developed following the logic that a building should not only have zero impact on the surrounding environment, but even make a positive contribution. Thanks to a combination of titanium dioxide and collateral particles, Ambience-treated slabs activate a natural process in contact with light (sunlight and artificial light) that absorbs pollutants in the air and water, transforming them into substances that are harmless to the environment and human health. A desirable side effect is the purification from bacteria, fungi and moulds. Healthier, cleaner and environmental-friendly surfaces, whose aesthetic retains all the beauty of natural surfaces.
Sustainability: the goal is to leave
Because there is not yet a definite point of arrival – and probably never will be. Technologies related to sustainability are constantly being updated, and nature itself still needs to be explored. And, what is more, the world changes: society, history, the rank of values, needs…We also change in how we define ourselves as people.
Like any respectable pioneer, feeling on the move is the spirit with which Laminam approaches the topic of sustainability. There are the results achieved, and they are more than meaningful: from "Sustainability Report 2020", more than 15 certifications (management, environmental, product, contact with food) and a tangible commitment on the issues of recycling (each surface, depending on the type, contains up to 40% pre-consumer recycled material from the pre-cooking scrap of the company's industrial cycle), energy saving (726,000 self-generated kW/h), waste reduction (53,000 m3 of wastewater treated and put back into circulation). Figures and concrete facts, which represent important stages in a journey that is still in its full course.
In the following video, the guiding mantra: responsible production and consumption, for the health and well-being of everyone – planet included.