Mediterranean Living
August 2021
Blog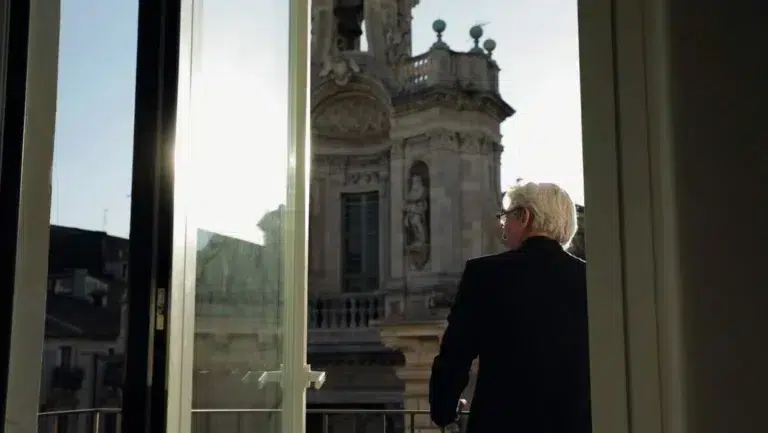 LANDSCAPE AND ARCHITECTURE BLEND TOGETHER IN ANTONIO IRACI'S DESIGNS
The Sicilian architect uses Laminam surfaces to create an architecture inspired by the "signs of Mediterranean culture".
The architect Antonio Iraci, founder together with Claudia Maugeri of Iraci Architetti, Sicilian of origin and training, has built his professional career by stamping innovation on every one of his design steps. Linearity and simplicity are the conceptual bastions through which he conceives his architectural universe. Added to these is a third element: "The signs of Mediterranean culture". His goal is, in fact, to build a new aesthetics of architecture inspired by the natural and formal features of the Mediterranean landscape.
The starting point of his experimentation is Sicily, with the colours of its essences and vegetation, the consistency and hues of its stones, the horizon outlined by Etna and the Mediterranean Sea totally surrounding it with its infinite shades of blue. It is a universe that Antonio Iraci considers a source of inspiration and essential scenography for his designs in which landscape and architecture blend together.
It is what he calls "Mediterranean Living". This view of architecture is implemented through designs calling for the use of materials inspired by natural stones and the achievement of a continuity between indoor and outdoor spaces, obtained using large glass windows, using their surfaces in interiors and exteriors and painstaking compositional and distributive choices of festive and intimate rooms, stairways and landscapes, overhangs and terraces.
This is why many of his executions entail use of Laminam ceramic surfaces that reproduce the texture, consistency and colours of natural stones, offering extreme versatility and much greater performance. Examples of this are Villa Milazzo, Villa Caltanisetta, Villa Giarre and Villa Posillipo, where owing to its extensive catalogue, Laminam finishes are used for flooring providing continuity between the interior and exterior, and as coverings of both walls and furnishings, such as tables and kitchen countertops.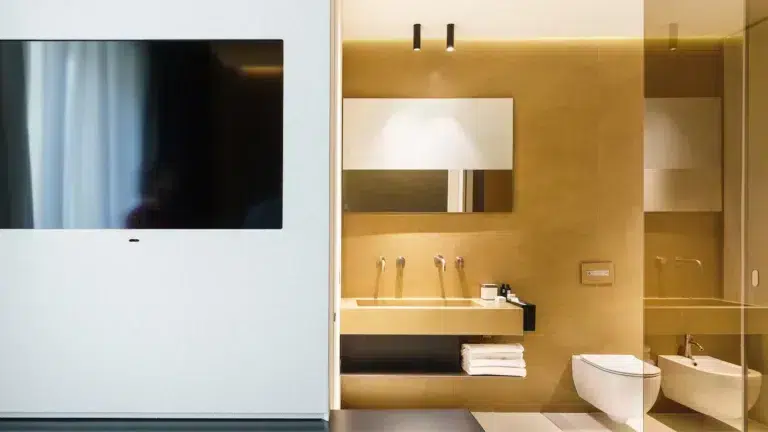 The creative approach is inspired by the Laminam Effect concept, which Antonio Iraci interprets in total looks using a single Laminam finish each time, chosen based on the context to distinguish his designs. The sole exception is "Meo Design Suite and Spa", a project to renovate a hotel inside an old baroque palazzo giving onto Via Etnea in the centre of Catania.
The expressive continuity is obtained in "Meo" by covering portions of the vertical and horizontal surfaces with Laminam finishes. Every room, also in the common areas and in the Spa, is characterised by a specific finish so that it takes on its own distinctive personality, but at the same time is pervaded by a single architectural language – that of Laminam – which connects it with all the others. This solution makes a huge aesthetic impact that envelops the guests and projects them into an architectural dimension where the atmosphere of the old Sicilian aristocratic residences reverberate with a contemporary feeling.
"Meo", which is the Sicilian translation of the Italian "mio" or "my" in English, is an interior renovation project that explicitly portrays how the architect Antonio Iraci conceives interventions in historic buildings. In his view, it is senseless both to reproduce lines and shapes of a bygone era and to develop them in a creativity that adapts to modernity. Architecture must be an expression of the feeling and aspirations of the society that imagines it. Therefore, the new volumes at the "Meo" hotel float inside a cladding made of history, but that are conceived using the canons of interior design of the contemporary era.
A way to celebrate on the outside what we were while at the same time exploring who we are today through the intimacy of the interiors.