Laminam live stream unveiled the new 2020 surfaces
July 2020
Corporate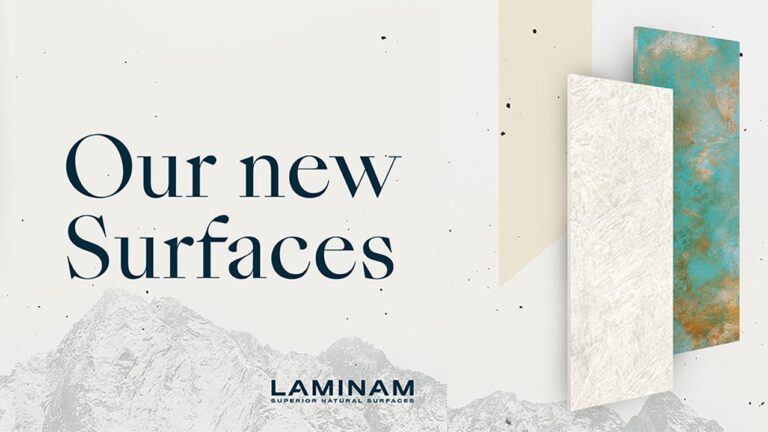 With its new Lego setting, the Laminam Milan showroom has been redesigned and reopened to the public and professionals in a Facebook unveiling. On show were the new Ardesia a Spacco and Cristallo Lucidato finishes from the I Naturali series and Verderame, from the Ossido series, (for the more unconventional designers).
With its new brand identity and its increasingly international and digital perspective, Laminam has evolved – launching four new products on 15 July 2020 for outdoor architecture, interior design and furnishing surfaces. The renewed showroom has Lego décor because the brand is a model and example of global success.
The new finishes project tradition into the future by focusing on creativity, elegance and attention to Italian and international trends and influences. The "I Naturali" series is enriched with Ardesia a Spacco (Bianco and Nero versions) and Cristallo Lucidato (polished). Ardesia a Spacco is inspired by Lavagna, a natural slate that was extracted from Italian quarries in Liguria, and had its heyday in Italy in medieval and Renaissance urban architecture. Cristallo Lucidato is intended for interior design, especially as a kitchen countertop, to offer the natural aesthetics of quartzite combined with Laminam surfaces' superior performance.
Combining art, creativity and superior quality, the Verderame texture confirms Laminam's affinity with the world of design and its vocation for aesthetic experimentation. Based on the artistic intuition of the innovative Fluidosolido Blu Lucidato surface and the experience of the Filo series, the new surface is suggested to daring interior designers to allow them new solutions in the most adventurous projects.
ARDESIA BIANCO A SPACCO / ARDESIA NERO A SPACCO –I NATURALI SERIES
1620×3240 (Full Size) size
Thicknesses: Laminam 12+, Laminam 20+
1200×3000 size
Thickness: Laminam 5+
CRISTALLO LUCIDATO – I NATURALI SERIES
1620×3240 ( Full Size ) size
Thickness:  Laminam 12+
VERDERAME –OSSIDO SERIES
1000×3000 size
Thicknesses:  Laminam 3+, Laminam 5