Laminam in the marine industry
August 2021
Blog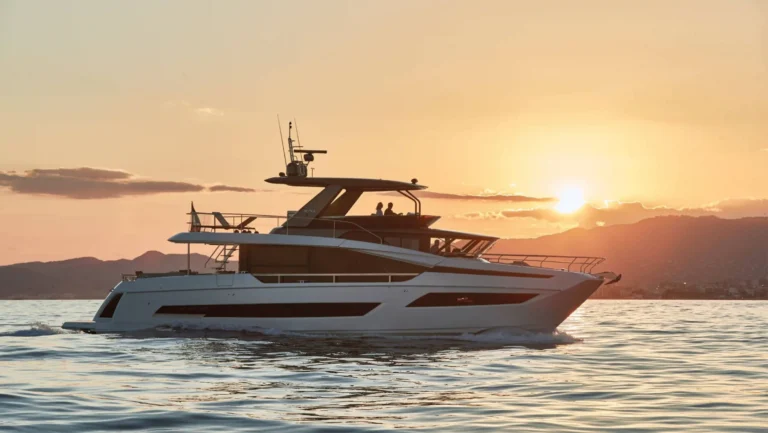 Laminam's ceramic surfaces are gaining in popularity as wall and floor coverings for yachts and cruise ships. The secret of their success lies not only in their elegance, lightness and sustainability but also in their superior technical features, which make them really functional for a marine environment and its harsh conditions.
The marine industry is continually expanding and represents one of the most exciting challenges for a designer. Developing radical aerodynamic shapes and planning the layout of the interior and exterior spaces of a boat or ship are undoubtedly part of the challenge. However, what makes the difference in today's boats and ships, especially the luxury ones where elegance and performance are a priority, are the materials used to clad the interior and exterior surfaces.
We are seeing ceramic finishes more and more in use nowadays by boat and ship builders because they meet most of what designers need: sophistication, strength, flexibility, lightness and eco-sustainability. Laminam surfaces are increasingly appreciated by designers because of their intrinsic qualities and are becoming a must-have material in yacht and cruise ship projects.
In private luxury boats, the surfaces are being used indoors in the living areas, kitchen, sleeping areas and bathrooms as worktops and supporting surfaces or to elegantly clad furniture accents, walls and partitions. In the outdoor spaces, we find them used as sophisticated table tops in the cockpits. In cruise ships, which are real floating hotels, they were initially used to cover the walls and floors of private bathrooms. Their use was then extended to include any type of cladding in the passenger cabins and indoor and outdoor common areas.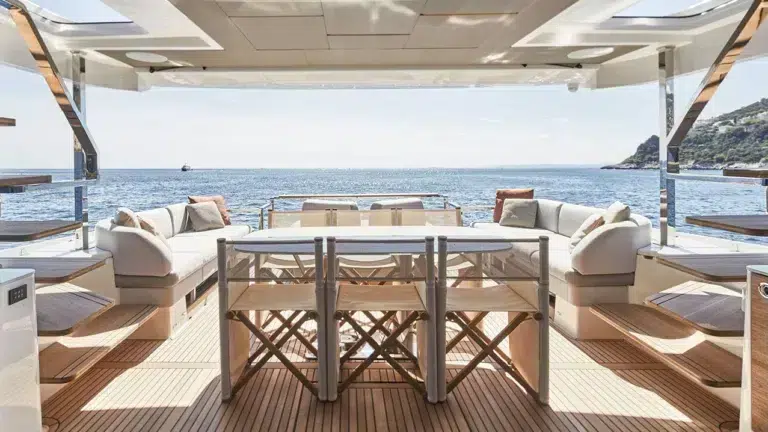 One of the main reasons for the growing success of Laminam ceramic slabs in boats and ships is that they can add the aesthetic feel of natural stones like, for example, marble and slate, which would be impossible to consider for a boat or ship project. In fact, while Laminam finishes reproduce and enhance the texture, colours and surface effects of many stones in nature, they are extremely lightweight and by far exceed the performance of the materials from which they draw inspiration.
Moreover, Laminam surfaces respond very effectively under the forces of harsh conditions like rough seas or harbour manoeuvres, which subject materials to strains, extreme vibrations, and sudden and frequent bending and torsional stresses. In addition to being strong, Laminam finishes are also superior in quality in terms of durability and maintenance. Their porosity is equal to 0.1%, which means they do not retain moisture and, therefore, are not affected by humidity nor change in size. Also, their colours will remain intact, even if exposed to the intense sunlight of the summer months.
Thanks to their properties, they are very easy to clean with any common eco-friendly detergent. They are naturally bacteriostatic and, according to independent laboratory studies, can inhibit the growth of microbes, fungi and mould by as much as 93% – something that is especially important in a marine environment.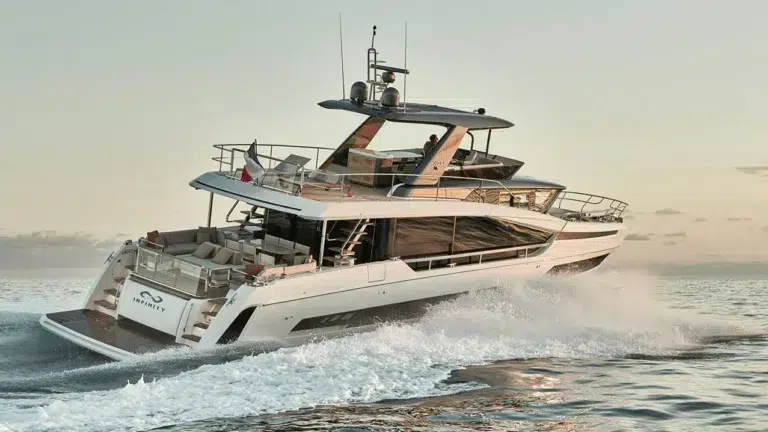 Finally, Laminam surfaces help to make boats and ships increasingly sustainable. The ultra-thin 3 mm version, which is the slimmest and most suitable one for boat and ship projects, is extremely lightweight; this makes it possible to reduce the amount of fuel needed to move the vessel and thus cut hydrocarbon pollution.
Today, Laminam is working together with the top multinationals in the marine industry and the most important yacht brands, collaborating to build boats and ships of any size. This was accomplished by bringing a paradigm shift in the boat and ship building industry and by introducing new and exciting design development opportunities thanks to Laminam's natural surfaces of superior quality.