IN-SIDE Series' Sliding Doors
April 2022
Blog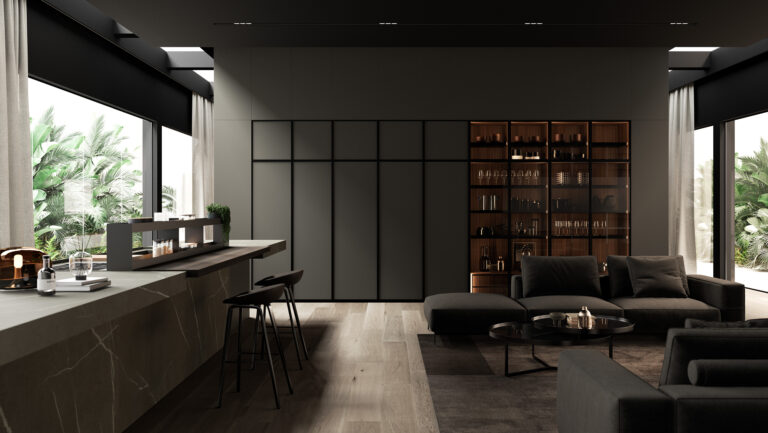 Sliding Doors: yesterday, today, tomorrow
"What if…?"
Hands up whoever have posed themselves this question at least once in their life, imagining how a story might have turned out if it had not been for that very moment that changed the course.
"What if … that day, at that time, I had made another decision, or gone another direction"?
Even fate managed to carve out its own space in our event-driven and restless life. You only need to be ready, in the right place at the right time.
IN-SIDE: sliding doors, between geniality and research
The topical moment of a story or the unpredictable element that changes the course of events, after a more or less random choice, is well described by a well-known English expression, "Sliding doors": if passed through, they mark new existential perspectives.
Let's look back at the genesis of an ingenious intuition, almost three years after its launch: a sliding door that threw Laminam's R&D division into the creative process and operational development of IN-SIDE, one of the most iconic and innovative products of Laminam technology. Daring choices and right time intuitions, in the right place, responding to specific needs for style to which no one, until then, had been able to respond.
Body and surface continuity.
IN-SIDE is the Laminam collection presented in 2019 and named after the state-of-the-art revolutionary technology of their finishes, inspired by natural stones – Pietra di Cardoso, Pietra Piasentina and Porfido.
Its special appeal is easily appreciated by looking at the edge of the slab, where the material follows the appearance of the surface decoration. The collection reveals new and unique architectural perspectives, in particular for kitchen tops and washbasins, thanks to the body and surface continuity, even after cutting, drilling and trimming.
"The stones featuring this collection are used across the board and historically in all Italian regions", explains Claudio Corniola, R&D Director of Laminam, "and they were chosen right to give a strong Italian identity to this product. One example of all is Pietra Piasentina: it originates from Friuli, but now it is used extensively in flooring throughout Italy, from Emilia to Sicily"
Hence, the path of innovation began with a precise study of typically Italian design and continued in search of that extra something that Laminam technology could have given to the stone used on large slabs.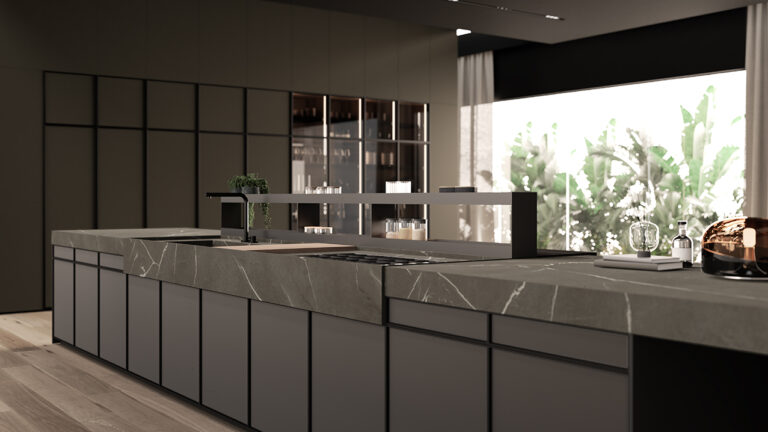 And here it is, the "Sliding door".
At a time when all major ceramic manufacturers were focusing their attention and efforts on polished marble stones, Laminam was inspired by tradition, perceiving that the 'doors' to open to rewrite history and create the ceramics of the future were right the aesthetic applications of these natural stones.
While it is true that the technique of using the entire body of the stone was already widely used in conventional ceramics, it is also true that Laminam re-adapted, transformed and transferred it to the large slab for the first time, integrating with this idea into an segment unexplored until then.
The aesthetic improvement achieved with IN-SIDE comes along with high technical performance in terms of resistance and durability, as well as improved hygiene and proven resistance to scratches, impacts, stains, chemicals, heat, frost and UV rays. The slabs become peculiar elements to be applied on kitchens, bathrooms or striking elegant furnishings design elements. They offer the same aesthetic and touch effect as the natural stones they draw inspiration from, for all those customers who seek superior aesthetic quality, technical excellence and the possibility of infinite solutions, both in architectural and interior design, in ceramics.
To date, the line comes in five shades and two surface effects: Natural and Fiammato (the typical processing that characterises the finest Italian stones). Versatility in application is ensured by the different thicknesses in the range: Laminam 5/5+, Laminam 12+ and Laminam 20+.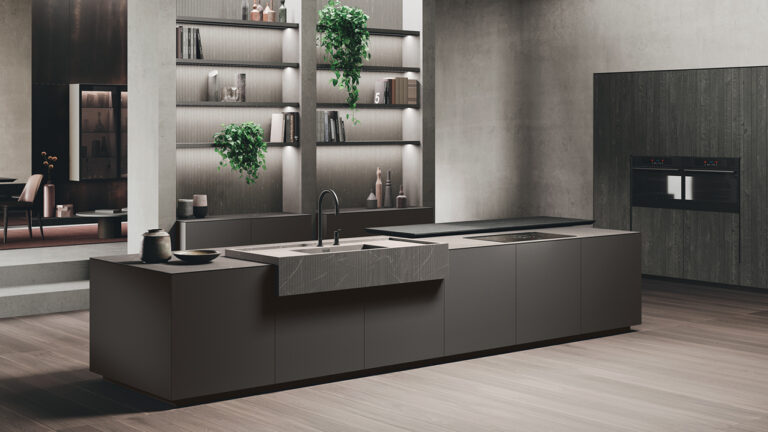 Experimentation continues
The success of IN-SIDE is based on its very uniqueness, in terms of aesthetic and technology.
"With this collection and the technology used to produce it, we did not merely recreate the original natural element on the ceramic slab; we reprocessed it specifically to meet our needs, backed by Laminam's know-how and technological expertise. Such a material does not exist … in Nature!"
[Claudio Corniola, R&D Director, Laminam]
In Laminam's world, every suggestion from Nature is transformed into architectural surfaces capable of stimulating the creativity of observers and of still fascinating their creators, as IN-SIDE continues to witness even after many years. With IN-SIDE, the large stones of the Italian architectural tradition are visible from every perspective perceivable to the human eye: a result made possible by Laminam's natural vocation for the search for uniqueness and the use of high quality raw materials.
However, research goes on, as does our ability to be ready in front of the 'sliding doors' that we will be facing during our exciting journey into the world of Architecture.
Discover the IN-SIDE surfaces, the evolution of ceramics, on Laminam website.