Business hall Aeroporto Platov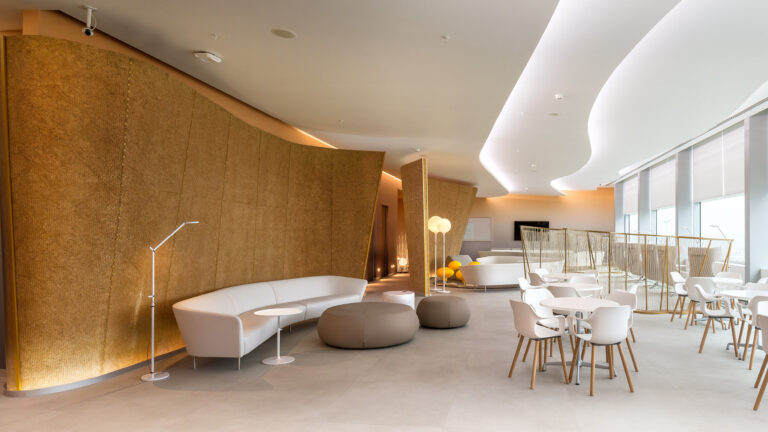 An interior design aimed at preserving and enhancing the natural landscape surrounding the airport
The new Platov International Airport in Rostov-on-Don covers a total surface of 50,000 square metres and is a key transport hub as a result of its strategic position. Known as the gateway to the Caucasus, Rostov is the southern capital of the Russian Federation. The region is particularly fertile with no fewer than 200 days of sunshine a year.
The VIP lounge with its expansive glazing overlooking the charming landscape of the Rostov countryside is arguably one of the most interesting areas of the airport from the architectural standpoint. Vox Architects designed the project and created interiors aimed at preserving and enhancing the natural panorama surrounding the airport. Furniture is placed to secure unlimited views. The natural theme is picked up in the choice of cork and porcelain stoneware as materials.
Location

Rostov

Year

2018

Architect

Vox Architects

Applications

Flooring, Wall cladding

Project Type

Airport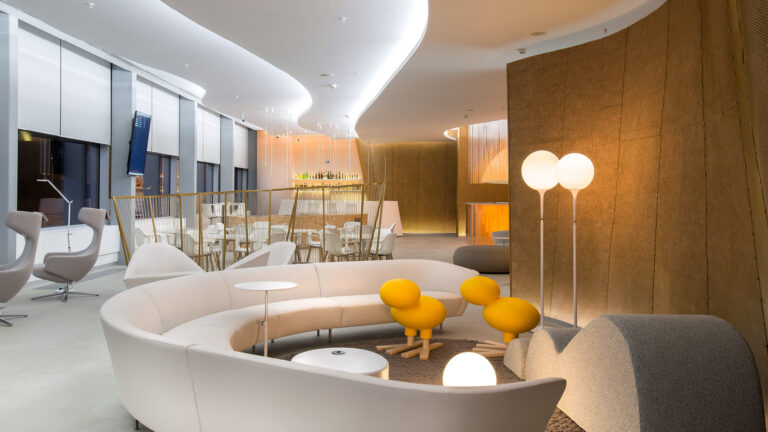 The VIP lounge owes its name "Sun on Don" to a unique reception area which appears as a bright artistic creation that evokes the sun shining over the impressive river Don. The lounge features sofas and armchairs, private seating arrangements, a relax area, a refreshments area and an area for children. Maximum capacity is approximately 65 guests.
The furniture, like the cladding and flooring materials, was carefully chosen to satisfy high needs in terms of resistance, durability, fireproofing and acoustic comfort. With these requirements in mind, Vox Architects chose large sized, minimal-thickness Laminam ceramic slabs for the VIP lounge floors and the restroom wall cladding. More in detail, they picked the Calce series 1000x3000mm, 5 mm-thick slabs in Grigio, and the Filo collection 1000x3000mm, 3 mm-thick slabs in Argento.