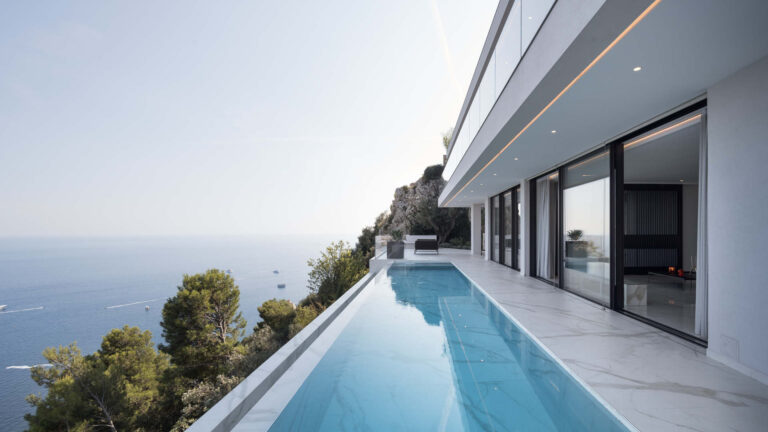 A sumptuous 2018 project on the French Riviera
The Laminam surfaces star in a sumptuous 2018 project on the French Riviera by Calvi Ceschia Viganò Architetti Associati.
"The materials used are made to last but also – and above all – to impress," the architects conclude. A goal achieved in partnership with Laminam, the Italian multinational with a sustainable green identity known as the first company worldwide in the ceramics sector to produce large sized yet exceptionally thin slabs. Indeed, the villa owes its impressive total look aesthetics to Laminam's finishes: I Naturali – Calacatta Oro Venato, I Naturali – Calacatta Oro Venato Lucidato and Filo – Mercurio (for all except the master bathroom). These finishes are inspired by natural materials but feature greater levels of technical performance.
The Laminam world calls to mind the great stones used traditionally in Italian architecture, such as marble, slate and porphyry, as well as the exquisite beauty of silk, the texture of the woods that have made Venice great, the intensity of colour forged on metal by the passage of time, and the transparencies and three-dimensionality of precious quartz stone cladding. Laminam's R&D staff continuously tests, studies and designs highly sustainable surface, material and structural effects with the goal of offering the market surfaces produced using natural raw materials and cutting-edge techniques with a low environmental impact.
Location

Roquebrune-Cap-Martin

Year

2018

Architect

Calvi Ceschia Viganò Architetti Associati

Applications

Flooring, Furnishing elements, Kitchen Worktops, Wall cladding

Project Type

Private House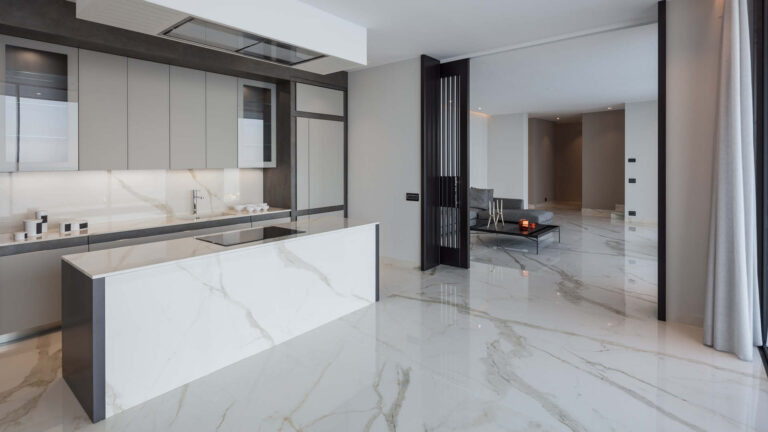 Natural and artificial elements
In a continuous, elegant and evocative play of natural and artificial elements, Laminam's finishes not only cover all the vertical and horizontal internal surfaces, but also create continuity of flooring between the interior and the exterior. This system creates a spectacular play of transparencies and reflections, that is particularly effective during the day when the villa is flooded with sunlight and at night when the swimming pool is lit up. The view is one of the most beautiful and memorable scenes of the French Riviera.