11 Luxury kitchen trends for 2024
November 2023
Magazine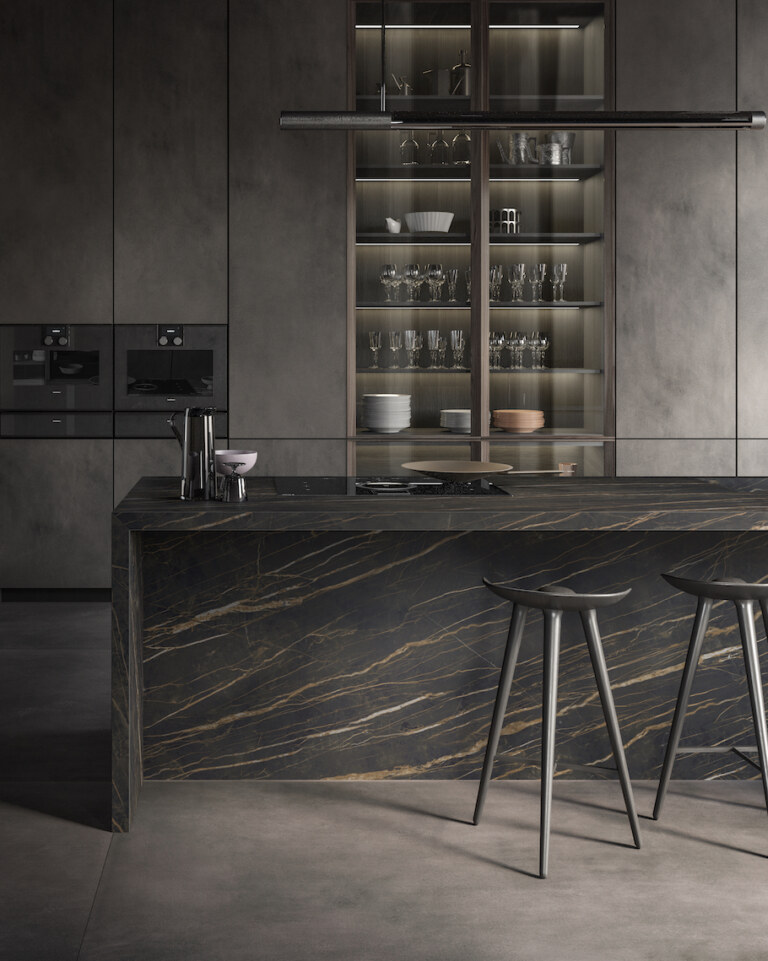 As we head towards the end of 2023, now is the perfect time to start planning your 2024 kitchen project. In recent years, the main themes have seen inside-out and biophilic design taking centre stage. Now it's all about earthy colours, gold accents, transparent storage solutions and porcelain as the material of choice Whether you're planning a complete room revamp or an update to your existing scheme, knowing what trends are predicted for 2024 will help inspire the style, materials and palettes you choose to give your space the wow factor it deserves.
The overall theme for 2024's interiors sees the kitchen becoming even more of a living space than before, with bold design choices throughout. To help you decide which look is for you, we've got the inside scoop on 11 key luxury kitchen trends for 2024, guaranteed to take your kitchen to the next level…
1 Porcelain Surfaces
Kitchen worktops, splashbacks and furniture cladding have previously focused on granite, quartz and marble. But as new innovations and advances in sustainability have meant that slabs of porcelain are richer and more design-led than ever before, it's become the material of choice for the kitchens of 2024.
Available in a huge choice of colours, textures, sizes, finishes and patterns, porcelain has a similar look and feel of these former surface heroes but without the price tag and maintenance to match. Porcelain also offers many benefits as well as aesthetics – it's waterproof, hygienic, durable, hardwearing, UV, stain and scratch resistant as well as easy to clean. With Laminam superior natural and sustainable surfaces, you can bring an authentic Italian look and feel into your kitchen for less.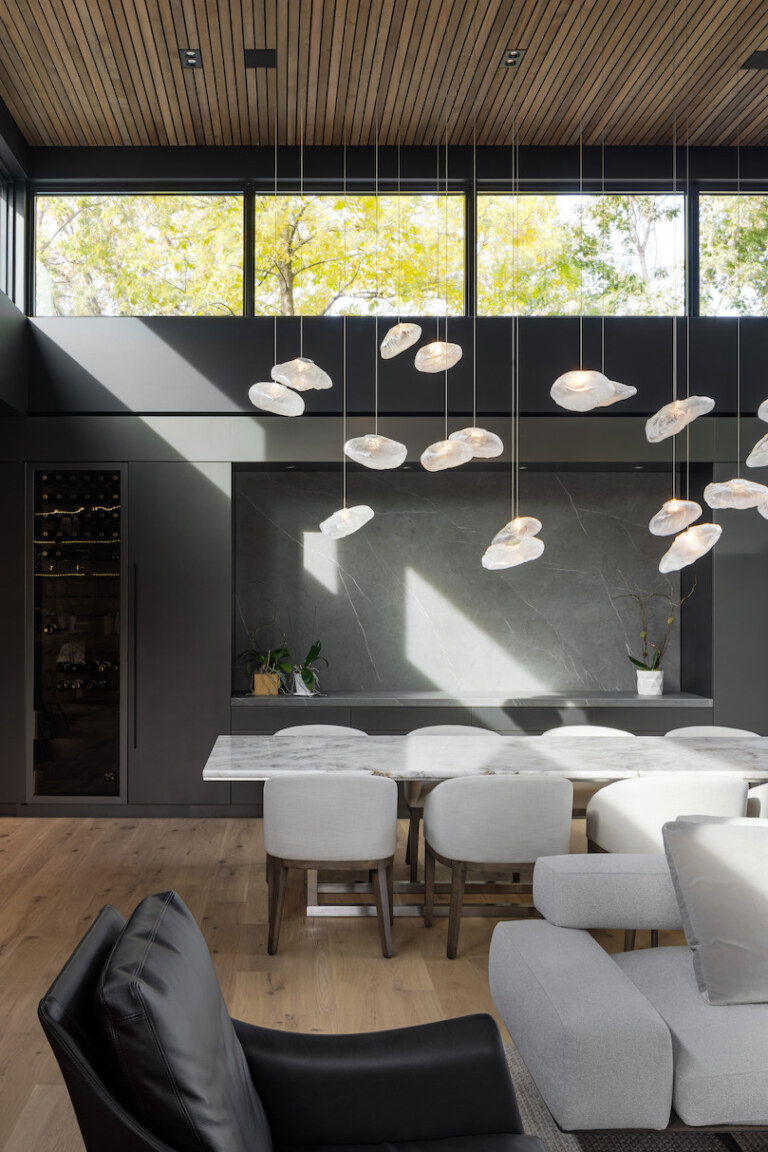 2 Black Kitchens
Dark kitchens are big news for 2024 with black surfaces and splashbacks alongside additional dark elements such as stained or painted cabinetry for an opulent finish. This statement style can also be achieved with porcelain worksurfaces, which are easy to clean and care for so they won't lose their lustrous sheen, giving your kitchen that high-end luxury look.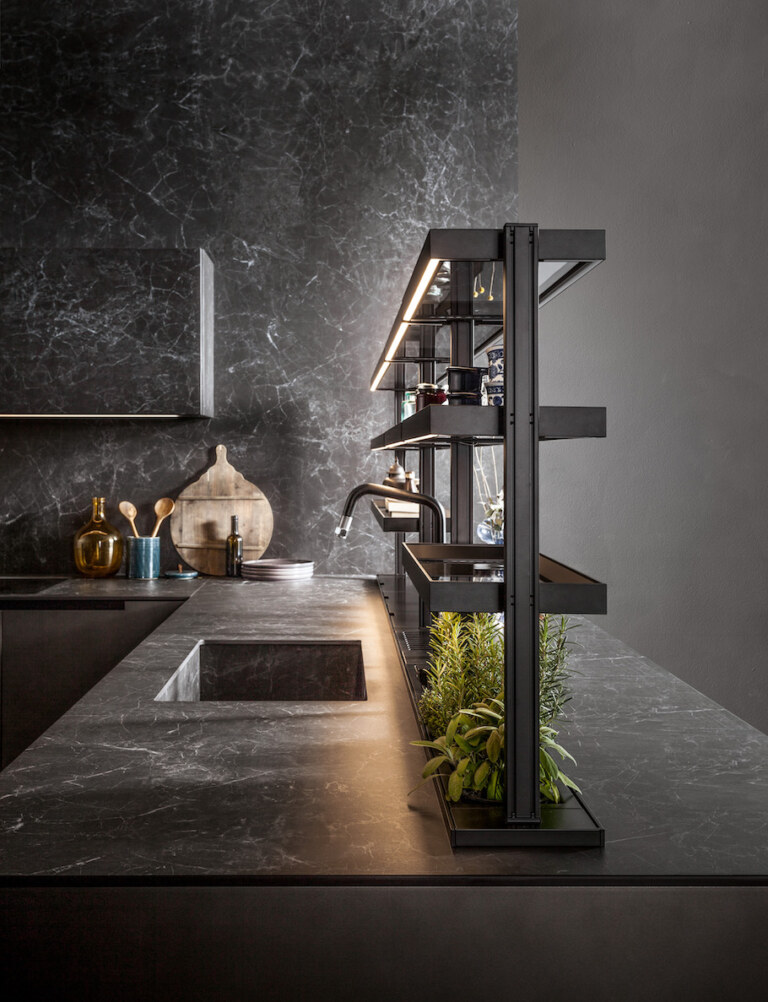 3 Sustainable Living
We're all making more sustainable choices when it comes to the products we choose for our homes and this goes for the whole production process too. Brands and manufacturers who embrace an eco-friendly way of production, packaging and delivery will be highly sought after.
More of us will also be looking for natural materials for our kitchen and products that are safe to be recycled at the end of their life. Kitchens for 2024 will see a lot more recycled, upcycled and handcrafted pieces too.
Laminam is the perfect option when it comes to your kitchen surfaces, as porcelain is incredibly eco-friendly and has one of the lowest carbon footprints. Our surfaces contain up to 60% recycled materials while 100% of the water used is fed back into production with 95% raw waste recovered.
4 Well-being Space
Much like bathrooms, kitchens are set to become spaces for self-care and well-being. With the rise in healthy home cooking and biophilic design, this key trend will transform the kitchen into an area of calm, whether cooking, dining or entertaining. One way to achieve this is with design elements that bring a sense of the outside, in. This could be with plants and fresh herbs, an earthy colour palette or the use of natural materials such as porcelain.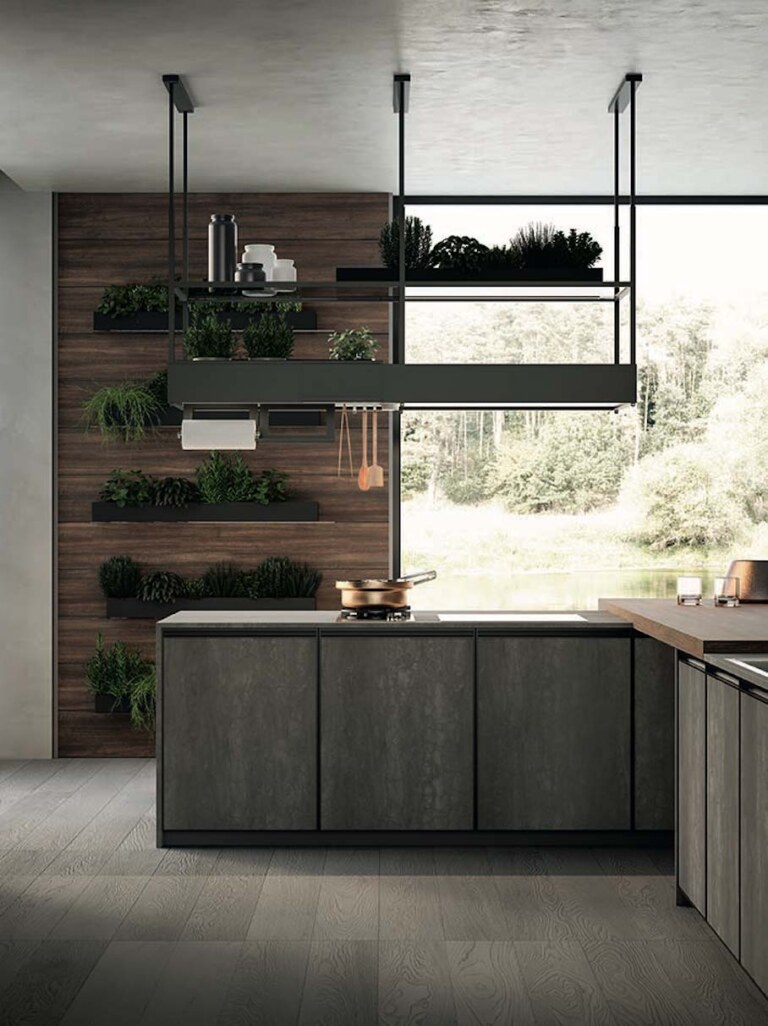 5 Freestanding Storage
Storage for the kitchens of 2024 will be less formal and fitted and more casual and relaxed with open, transparent or freestanding shelves to display everyday items and treasured pieces. Whether you prefer a classic pantry, traditional larder, dedicated dresser or floating shelves, the key is to keep it clutter-free. You can also embrace the open-ended look with an island topped with porcelain and plenty of open storage at either end.
6 Warm Metallics
Metals of the moment for 2024 will include warm tones such as copper, gold and brass. Whether incorporated within the veined details of your porcelain surface or with your choice of sinks, taps, lighting, handles and hardware such as sockets and switches, these warm accents will bring a luxe look to even the simplest of kitchen designs.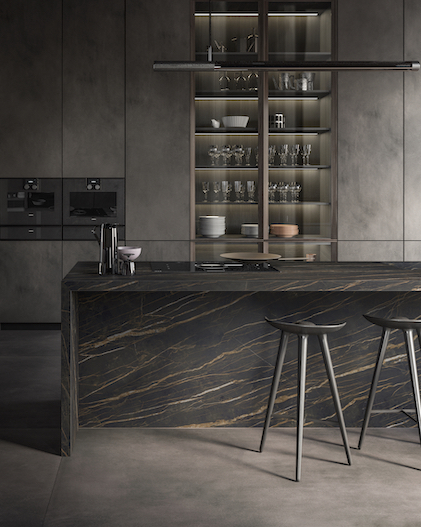 7 Marble Effects
Marble and marble lookalikes have reigned supreme in kitchens over the last few years and have now become a timeless classic. For 2024, designers will be mixing marble effects with other textures and tones such as wood, cement, steel and glass for added visual impact. Choosing a marble-style surface such as porcelain is not only more budget-friendly but it's also easier to care for and clean.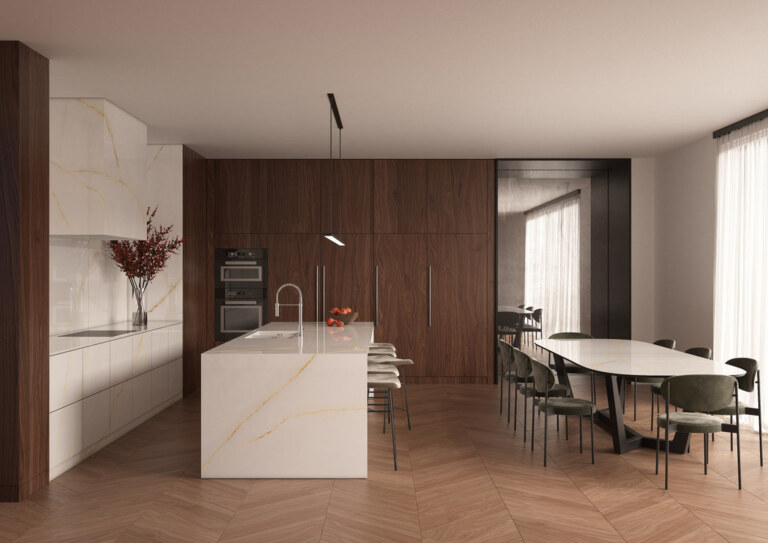 8 Multifunctional Islands
From extending into a dining table to bespoke chopping blocks and breakfast bar zones, kitchen islands will be more versatile than ever in 2024. Combining the versatility of a commercial kitchen with the luxuriousness of a high-end restaurant, islands will work harder than ever before with areas for food prep, cooking, washing and dining. A porcelain-topped design will also be effortlessly hygienic and easy to clean.
9 Earthy Colours
Rich, earthy tones will be the palette for the kitchens of 2024. Think deep browns, anthracite and nature-inspired greens, as we move away from lighter kitchens to darker designs with plenty of visual depth. This key trend will extend to all elements of the kitchen, including surfaces, cabinetry, wall colours and flooring.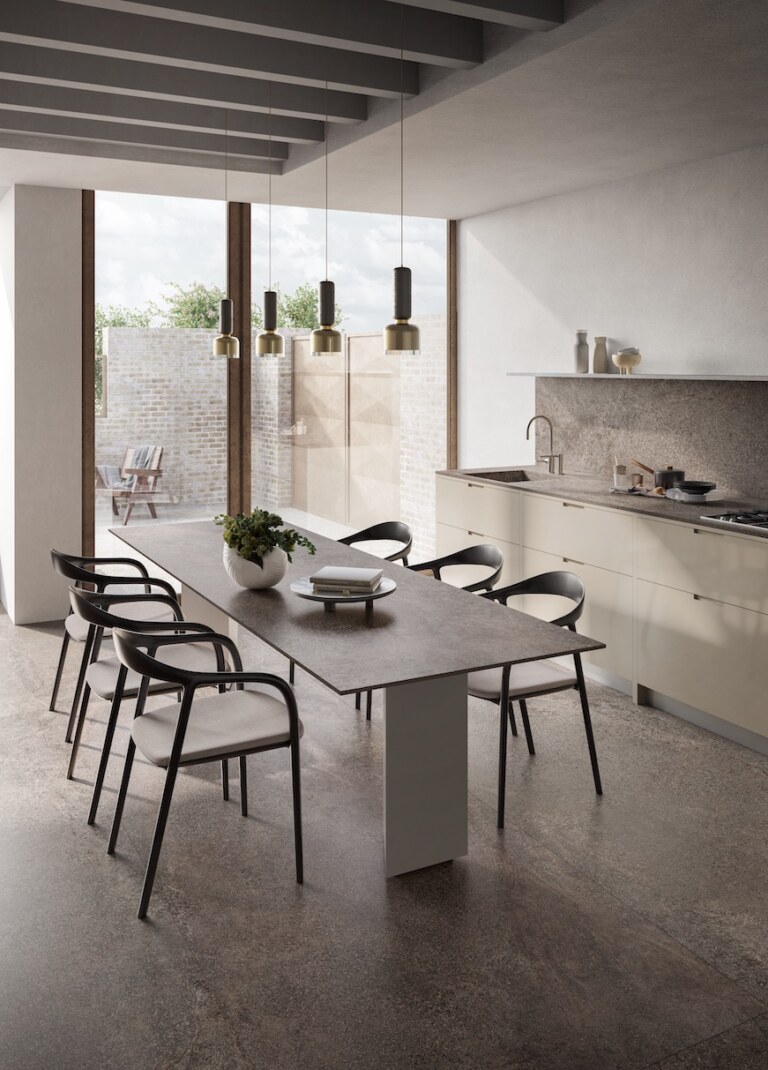 10 Chunky Surfaces
Slab-style surfaces are perfect for adding bold impact to a kitchen island or worksurface and with the standard industry thickness being 12mm, 2024 will see 20mm surfaces being used, especially on waterfall islands for a statement look.
11 Soft Finishes
Next year will also see a move towards matt or soft finishes rather than shiny or gloss. State-of-the-art technology in the surfacing industry has meant that this is easily achieved for any kitchen surface and alleviates the issue of fingermarks in a hardworking space.