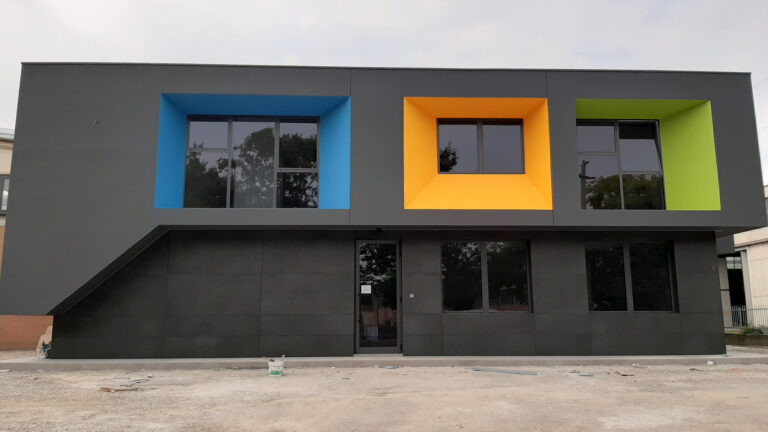 Colours and volumes in a game of oxymorons
An old building from the 1960s renovated according to the logic of contrast, involving colours and volumes in a game of oxymorons.
These are the new facilities of Keytek, the company from Formigine (MO) specialising in graphics and digital printing, which asked architect Ingrid Fontanili to give these headquarters a new look. Lines, geometries and colour scales were designed to create solutions with an ever-changing impact, with creative and unique application, with no need for continuity because each space – both indoor and outdoor – should represent a seamless view. The only leitmotiv running through the indoor and outdoor areas is black, which is widely used for the exterior façade and some interior design elements.
Location

Modena

Year

2020

Architect

Ingrid Fontanili

Applications

External Facades

Project Type

Corporate Headquarters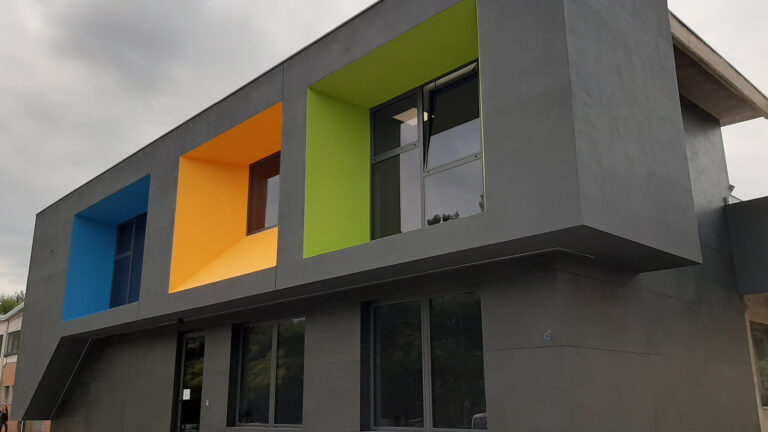 Forming flared and irregular shapes where there were originally simple windows
From a formal point of view, the metal structure completely interrupts the existing one and allows the upper part of the building to overhang, forming flared and irregular shapes where there were originally simple windows. Different materials and finishes can be applied thanks to its large extension, to further emphasise the idea of dynamism already suggested by colour matching.
Applied to clad the reception desk and the external façade on each side, at different heights, the large Laminam slabs in Laminam 3+ thickness contribute to a design style that does not forego functionality. Chosen in the Nero shade, a versatile colour that unleashes the most varied design needs, Calce ceramic slabs boast a chromatic spectrum perfectly in line with the architect's needs. At the same time, they represent technical expertise made in Laminam: they are resistant to impacts and stains, as well as to atmospheric agents and UV rays. Soft, suffused surfaces reminiscent of freshly-plastered walls or industrial cement: essentiality is elegance with Calce.