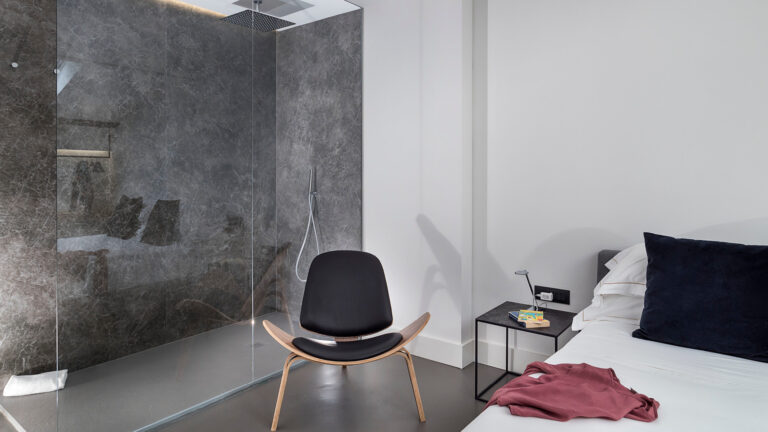 A genuine hospitality boutique
One of the most recent architectural accomplishments includes the new HABITAT HOTEL in CATANIA. Habitat Hotel is the result of recent interior refurbishment work which transformed this B&B into a genuine hospitality boutique.
The new hotel facility, which was recently inaugurated in Catania, was devised and renovated by the Catania-based design studio Habitat Studio belonging to Architects Marianna Nociforo and Antonio Spera. The project revolutionised every single detail of the hotel facility: from the lobby to the individual rooms featuring a consistent stylish and modern, strikingly simple and prestigious style, with a well-defined personality.
The shades are delicate and the carefully selected finishes ensure the harmonious coexistence of bright white claddings with typical Sicilian decorated antique floors and also ceramic furnishing surfaces and settings, inspired by natural materials, such as marble and stone.
Location

Catania

Year

2018

Architect

Habitat Studio Architetti Associati

Applications

Flooring, Furnishing elements, Wall cladding

Project Type

Hotel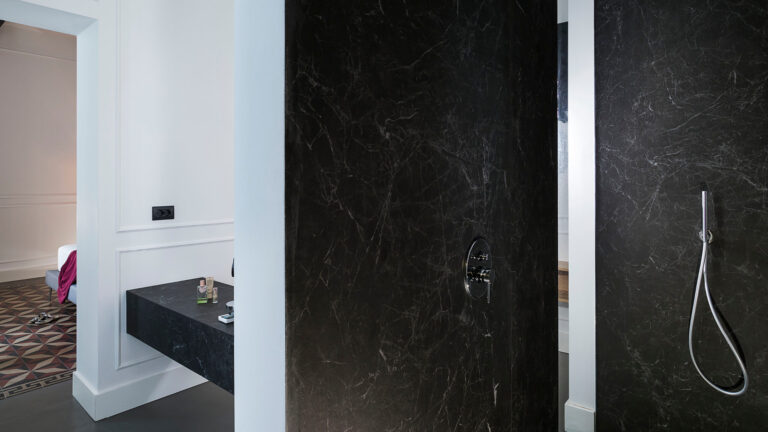 A colour range of various shades of grey and black
The designers picked Laminam ceramic slabs, applying them continuously, fully to exploit the versatile DNA of this material. The product was used for the surface of the furniture in the rooms and bathrooms, on the steps of the staircases and vertically for the shower wall claddings. The large-size Laminam ceramic surface is the perfect material for use in public settings because it makes it possible to clad large surfaces and is extremely resistant to impact, scratches and external stresses, while also being easy to clean. In other words, it is a durable material. What's more, its intrinsic hygienic quality combined with the absence of joints makes it an exceptional product for more delicate settings where the utmost cleanliness and wellbeing need to be ensured.
The architects picked out three finishes from the I Naturali series, inspired by marble and stone, offering a colour range of various shades of grey and black: Pietra di Savoia Grigia, Pietra di Savoia Antracite, Emperador Grigio and Nero Greco in the 5 mm thickness for the claddings and 12 mm for the horizontal furniture surfaces.