Cities as forests, buildings as trees
October 2021
Blog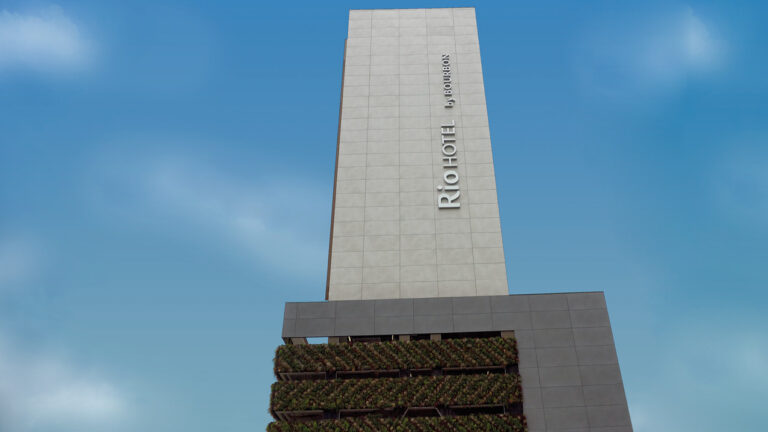 Ambience bioactive treatments fight atmospheric pollution and transform buildings into urban forests. Ceramic slabs treated with Ambience make cities eco-friendly, transforming polluting substances into completely harmless organic compounds.
The modern world is undergoing an unprecedented environmental and climate crisis. The issue of atmospheric pollution is now one of the main topics of debate at the highest levels of government. The consequent global warming is causing sea levels to rise, threatening entire ecosystems as a result. This climate shift is evident in increasingly intense and ever more extreme weather events.
Laminam strongly believes that being sustainable also means building a better future for the generations to come. This belief underpins Laminam's desire to contribute to building ever more eco-friendly cities. This choice is also in line with guidelines included in the United Nations New Urban Agenda in 2016, in which the international organisation recommends that member states implement urbanisation processes for making cities more liveable, inclusive, healthy, resilient and environmentally friendly.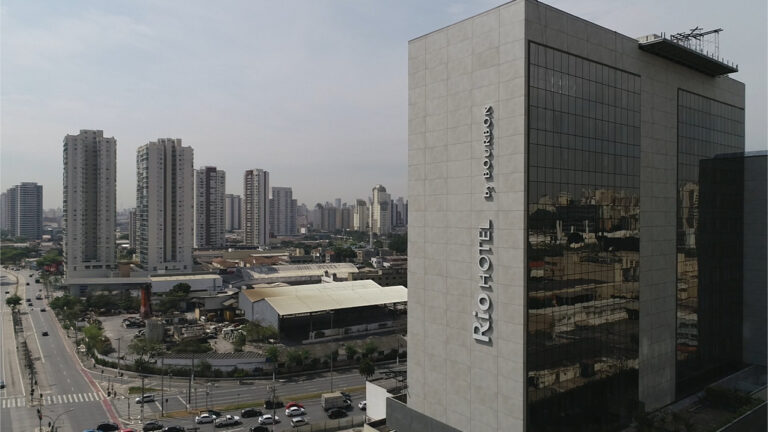 Hence the creation of Ambience: a range of treatments which allow ceramic slabs to fight atmospheric pollution and make them easily cleaned with rainwater, thus also reducing the environmental impact of their maintenance.
Through the action of sunlight, Ambience treatments activate a photocatalytic process on Laminam surfaces, similar to that of plants. By releasing oxygen, the polluting substances present in the air are transformed into completely harmless organic compounds and chemical elements.
An early demonstration of Laminam's commitment to the environment is the Hotel Nodo in Chile. Finished in 2019 and designed by architect Ricardo Stein, it is the first building in South America which purifies the air, thanks to façades built with Ambience-treated Laminam finishes.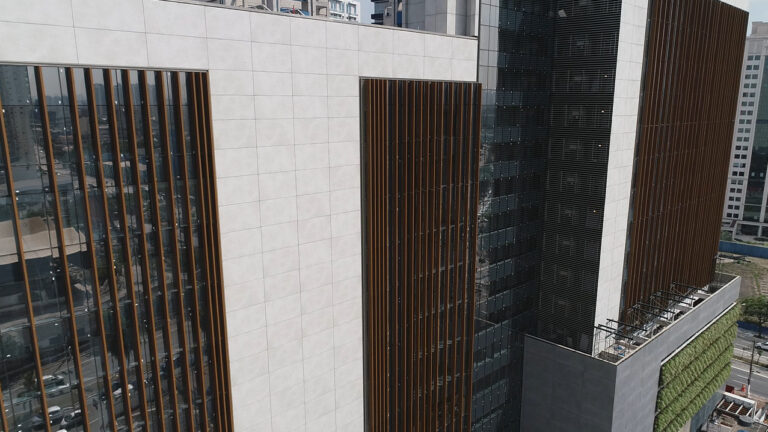 Today, the Barra Funda Complex in São Paulo, designed by architect Lilian Wexler in consultation with façade engineer Paulo Giafarov of DGG STONES, is the first building in Brazil to which large-size bioactive ceramic slabs have been applied. If all buildings were externally clad with Ambience-treated Laminam ceramic slabs, atmospheric pollution in cities would be drastically reduced, with immediate and substantial benefits for the health of their inhabitants.
The building is covered with 6,300 m2 of Grigio and Antracite ceramic slabs from the Calce series, a Laminam collection which takes its tactile and aesthetic cue from lime, one of the most widely used materials in traditional construction, while extending its applications and performance. In one year, the surfaces of the Barra Funda Complex can help to fight pollution in the city of São Paulo by purifying as much air as a forest of over 4 hectares can.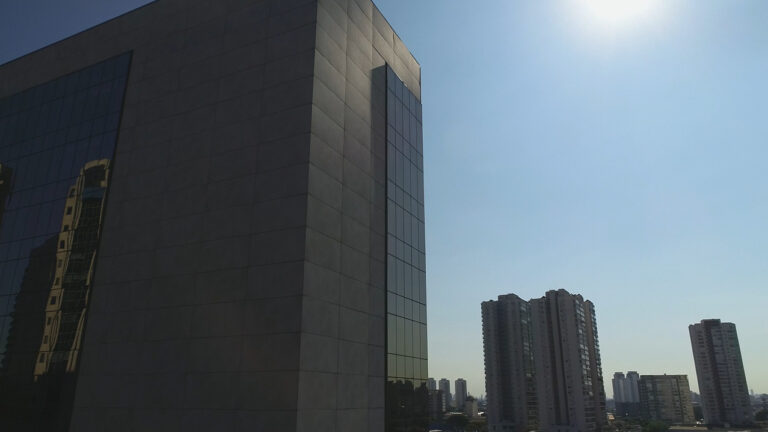 Ambience treatments, which only make use of natural active ingredients whose action has been tested and certified over time, are the result of a company approach driven by research and technological evolution. Laminam is a Made in Italy leader, combining design, innovation, safety and sustainability across the board, to build and shape the world of tomorrow.